Demystifying BABoK V3 terms and understanding them practically
by Ann P on Aug 2, 2018 12:00:00 AM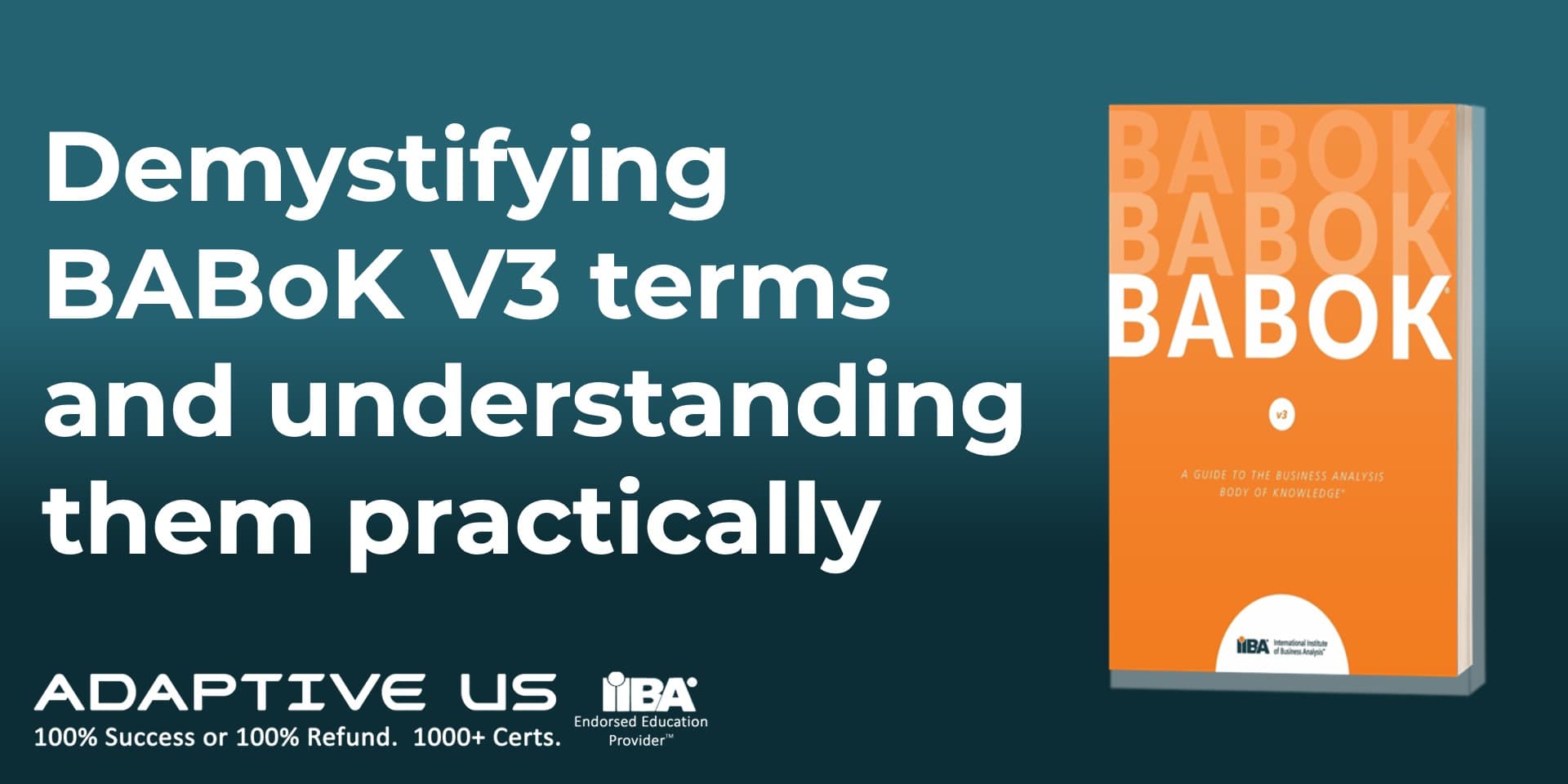 BABoK V3 is a great and large revision to BABoK V2. Along with the significantly revised content, V3 also came with significantly revised vocabulary which is different from V2. The new terminology will take a little time to sink-in into the day to day Business Analysis practices.
I have observed the change to the vocabulary helped us in 2 ways:
#1
BABoK V3 encourages using the word which is more inclusive than the previous terminology. Let's understand this with an example.
BABoK V3 uses the term "Business analysis information" instead of replaces the old term"Requirements" when trying to describe information associated with the business analysis.
The advantage of the new term is that, though "Requirements" are extremely vital and major business analysis information, there does exist other types of information which are of interest to the business analysis process. For example, this can be a business analysis plan, traceability matrix which is also needed for BA information.
So it is indeed better to use a broader term like BA information when we would like to express all the informational needs for business analysis.
#2
BABoK V3 uses terms which are more engaging and active.
Let's take 2 words to compare: Collaborate vs. Communicate.
Which one should we pick?
Most of us have used the word communicate far too long.
However, when we compare these 2 words, we should prefer to use the term "Collaborate" than 'Communicate".
Communicate as a verb is usually less involved. Whereas collaborate indicates a more involved approach where all stakeholders actively participate in the project or initiative to make it a success.
Although the V3 terminology is better, sometimes it is hard to comprehend the same quickly from a practical perspective. Hence, I decided to spend some time and come up with a series of articles that will help all business analysts understand BABoK V3 terms quickly.
About me
I am a professional BA, trainer, coach, and author.
If you like my posts please like/share/comment and spread the word in your network.
Would love to connect with fellow professionals.
You can also reach me at LN@Adaptiveus.com.
About Adaptive US (Think BA. Think Adaptive.)

Adaptive US provides CBAP, CCBA, ECBA and other business analysis certification training online and consulting needs for Individual or Corporate either online or offline. Adaptive US is an endorsed education provider of IIBA®
For more updates on courses & tips follow us on Facebook | Twitter | LinkedIn | Google+
No Comments Yet
Let us know what you think