Identity crisis. Thy name is Business Analyst.
by Adaptive US on Apr 5, 2018 12:00:00 AM
Business analysts are truly a diverse community. I do not see there is any other profession which has so much confusion regarding what they should know and what should they do.
Ask a Project Manager. Everyone knows, project managers ensure projects are successful.
Ask a Technical Architect. Everyone knows, technical architect design robust solutions.
Ask a BA. Nobody is quite sure.
We business analysts do lots of things. We do often develop requirements, but that may not be true for some BAs. Business analysis often overlaps largely with consulting as well. Remember, many often BAs are considered as internal consultants.
Recently I met a very senior consulting professional in whose opinion, BAs are junior professionals who are asked to do documentation as no senior professional will agree to do that.
Why is this confusion for us?
Let's understand, how conveniently we roll 3 different types of roles into 1. That's the culprit.
As per BABoK V3, BAs are change enablers. This is quite true.
However, change is a nebulous term and it can come in quite different shapes and sizes.
I have been lucky enough to participate in types of change projects, and based on the same, I have created a simple framework for understanding different types of changes.
Three different types of changes are: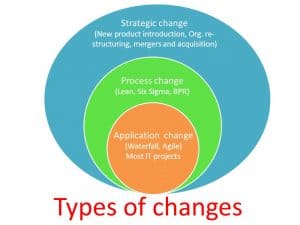 Application changes:
Most organizations have tons of existing applications. They also may build new applications to support business in terms of analysis (reporting), minor or major changes. Majority of IT projects fall into this.
Changes done here may have limited impact on process or strategy.
Process changes:
Most organizations wish to improve their processes continually. They use various methodologies such as Lean, Six Sigma etc. to improve their processes. Process improvement and re-engineering projects fall into this category.
Changes done here may have limited impact strategy but can have good impact on applications.
Strategic changes:
Organizations need to make strategic changes to stay relevant. Competitors bring in new products and services. Technology changing quite fast.
So organizations need to introduce new products. They explore opportunities for mergers and acquisitions. They may also under major changes to organizational structure to stay relevant.
Strategic changes usually have large impact on processes and applications.
As a business analyst, depending on your competence and experience, one will perform one or more of these roles. However, it is unlikely that one will work on strategic and application changes as they are usually distantly placed with each other.
The skills required for different types of changes are also quite different.
For an application BA, knowledge of software can be very helpful.
For a strategic BA, understanding markets, competition and finance is essential.
Maybe it will be good if we specify what kind of BA we are and the organization also can specify what type of BA they are looking for.
No Comments Yet
Let us know what you think