Business Analyst vs Business Process Analyst | Free BA eBook
by LN Mishra, CBAP, CBDA, AAC & CCA on Aug 11, 2017 12:00:00 AM
Here are some interesting facts about salaries for business process analysts and business analysts. We gathered salaries of 2 very similar job roles – Business Process Analyst, and Business Analysts and Business Systems Analysts.
There is a significant difference in salaries between these 3 roles. We searched one of world's leading HR jobsite indeed.com and found following important information.
On average, Business Systems Analysts earn $14000 more than Business Process Analysts.
On average, Business Analysts earn $5000 more than Business Process Analysts.
Here is a screenshot from indeed.com site.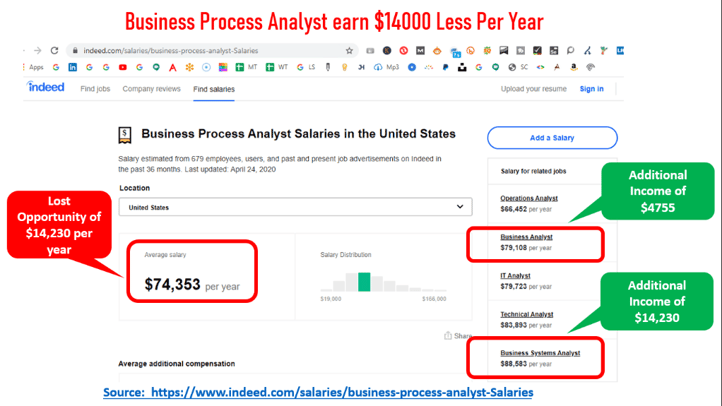 As we look through these 3 roles, they have a lot in common. It is quite possible for Business Process Analysts to transition to a Business Analyst Role and then subsequently to Business Systems Analyst role.
So, what's the difference between these two roles?
So let us understand the similarities and differences and chose which one is more appropriate for whom.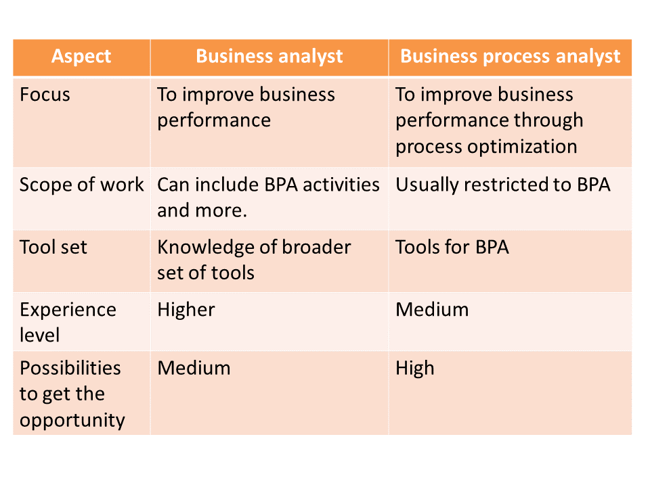 1. Learn the BA process.
Like any other activity, the business analysis also follows a process. Certain guidebooks say that the business analysis process can't be standardized. In most of our project experiences, we have observed that business analysis has a well-defined approach.

The best part is you can go ahead and lay your hands on the Global Business Analysis Core Standard from IIBA. Available to download free this is a short document of approximately 50 pages. This will give you a good idea of how business analysis is performed.
Learn requirements modeling tools and management tools.
Like most other professions, business analysts use many tools as part of their work. Some of the popular tools are business process modeling, state modeling, and use case modeling. You can lay your hands-on trial version of Microsoft Visio - a tool very popular in many organizations. You can also learn other free tools, such as Lucid chart or BizAgi Business process modeler or StarUML You can learn to model some processes within your workplace.
Get Involved in BA Activities like Requirements Gathering
Now that you already have learned some basics of business analysis, the best place to learn and practice would be to get involved in the project requirements. Be a shadow business analyst for the current business analysis of your project., which would allow you to practice the concepts that you have learned.
Practice makes a (wo)man perfect!
Any skill can be learned if you are willing to put in the effort to learn!
Participate in Professional Groups, Webinars and Conferences on Business Analysis
There are many professional groups and virtual and physical conferences on business analysis. Participate in these events to understand how business analysis is changing, what are the trends in business analysis, and how you can bring new business analysis concepts to your organization.
As well, there are many professional special interest groups on LinkedIn and on forums on the web where you can discuss, participate, contribute, and learn the skills you need to be a business analyst.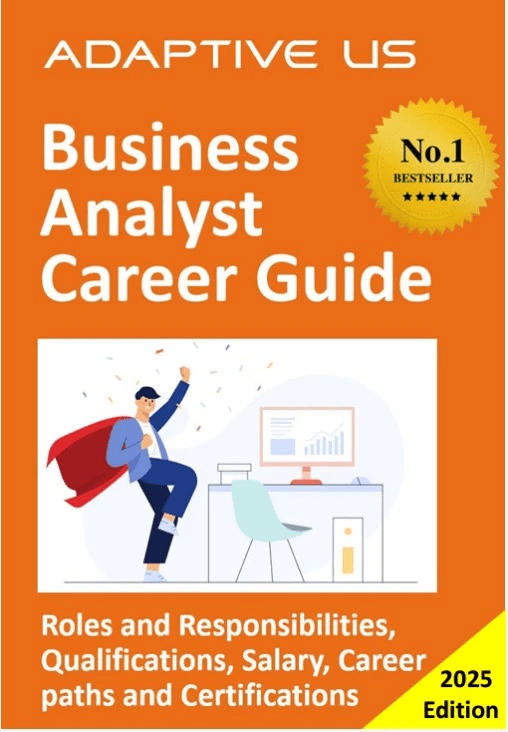 Get a Global Business Analysis Certification
Getting a Business Analyst certification carries a lot of weight with organizations and will also help you to acquire the requisite knowledge. Certification can improve overall performance, remove uncertainty, and widen market opportunities.
For those who are making a foray into the business analysis domain, ECBA certification from IIBA is a good choice. ECBA not only gives a rock-solid foundation for getting into the BA profession but also helps with global certification. The ECBA certification does not call for any eligibility criteria in terms of education and covers aspects related to requirements elicitation, requirements analysis, and management, stakeholder management, techniques used by BAs, etc.
It is strongly recommended that you undergo proper training from a seasoned BA coach. This will help increase your chances of passing on the very first attempt and in the shortest possible time. My organization Adaptive US (adaptiveus.com) is an EEP with IIBA and has helped scores of professionals get ECBA certified and step into a successful BA career.
For more details- ECBA Training

I work as Principal Consultant and Trainer with Adaptive US, a leading requirement engineering solutions (training, consulting and product) organization. You can reach me at LN@adaptiveus.com.
If you like my posts, please like/share/comment and spread the word in your network.
No Comments Yet
Let us know what you think