Top 10 CBAP Certification Myths IT Professionals Have | Adaptive US
by Ann P on Feb 13, 2018 12:00:00 AM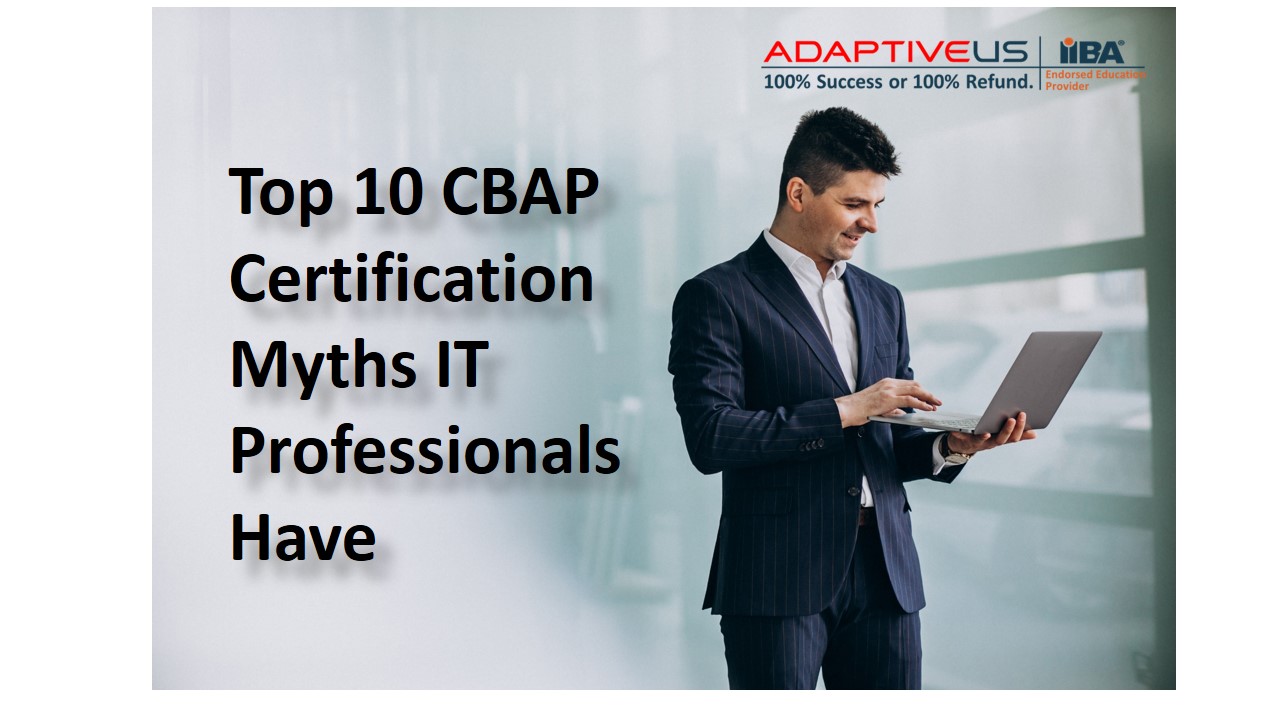 We have come across many CBAP certification myths and misconceptions while interacting with BA professionals. Here are the top 10 CBAP Certification Myths -
CBAP certification is undoubtedly the most coveted designation globally among Business analysts.
Even though work experience is one of the requirements of CBAP® as a prerequisite, the CBAP® examination needs you to have excellent practical knowledge of the business analysis concepts and the ability to relate BABOK® knowledge to practical scenarios/cases.
However, there are many myths associated with CBAP certification. Some of the most common CBAP Certification Myths are given below:
1. I can't appear for CBAP® as I had a career break.
This is far from the truth. CBAP® examination does not bother about any career break that you had. It requires you to have 7500 hours of business analysis experience in the last 10 years. As long as you meet the criteria prescribed by IIBA®, that's more than enough for you to go for the examination. So do not worry if you've had a career break in your work history.
2. I need my official designation as a business analyst to prepare for CBAP®.
One of the most common CBAP Certification myths - I am not called a Business analyst in my organization, can I still pursue CBAP?
The requirement from IIBA® is to have business analysis experience, not necessarily a designation of a Business Analyst. Even if you are officially designated as a systems analyst, project manager, Implementation Consultant, Domain SME, Business consultant, or something else, as long as you are dealing with the tasks mentioned in BABoK® (which are primarily related to requirements engineering, requirements management, requirements analysis, and strategy analysis), you are perfectly fine to go for CBAP®.
3. I need to by-heart the BABoK®.
This is an interesting myth. Unfortunately, some training organizations also promote this kind of mindset where they expect one to remember BABoK® by heart. There is NO need for you to by- heart the BABoK®. What you need to understand are the concepts in BABoK®, a general flow for business analysis work, techniques and how the techniques relate to the work, and apply BABoK® concepts to a business analysis situation. So cheer up – no more frightening thoughts of by hearting the BABoK®.
4. I will lose money if my application is not approved
Your application will not be processed until it is completely acceptable to IIBA®. So there is no way that you would lose money when applying for the examination. This was the situation when the old certification scheme was there. Stay confident that unless and until you provide all the details that IIBA® expects you to provide, your application is not going to go to the stage where you can pay the application review fees.
5. I can't appear for CBAP as I am currently not in a job.
Again one of the most common CBAP Certification myths is that one should be in a job to apply for CBAP®. As I already mentioned before, there is no such expectation from IIBA® that one has to be in a job to be a CBAP®. In fact, achieving the CBAP certification when you are not in a job or even on a break can actually help you to get back into a BA role than not having the certificate.
6. I need my employer's experience letter to take up CBAP®.
Again IIBA® has no expectation that one would produce any experience letter from the employer. What you need to make sure of is that you are in touch with your past project managers or clients who can serve as a reference for your BA experience.
7. I need to complete lower-level certifications to go for CBAP®.
There is no need for one to complete ECBATM and CCBA® to go for CBAP®. One can go directly for CBAP® as long as one meets the criteria mentioned by IIBA®.
8. CBAP is a cakewalk examination as I already have good years' experience as a BA.
This is again another kind of situation where people with 15 to 20 years of experience feel that they can pass CBAP® easily since they have a good number of years of experience as a BA. Good knowledge of BABoK® and the exam pattern is highly essential to complete CBAP®.
9. Technical software knowledge is a prerequisite to go through CBAP®.
The only area one would encounter software knowledge in BABoK® is part of RAD KA. One will be able to learn software modeling concepts if one spends about 20 hours of effort.
10. Finally, the greatest CBAP certification myth, CBAP is useless, and only real BA knowledge counts.
This is indeed true for people who have no further career ambitions and are completely happy with their current employer, and do not see any value with personal branding. If you happen to be part of such a group, then there is no need for you to really spend time and effort in going for CBAP®.

No Comments Yet
Let us know what you think