IIBA CBAP Exam Pattern in 2023 | 100% Success Guarantee
by Ann P on May 17, 2018 12:00:00 AM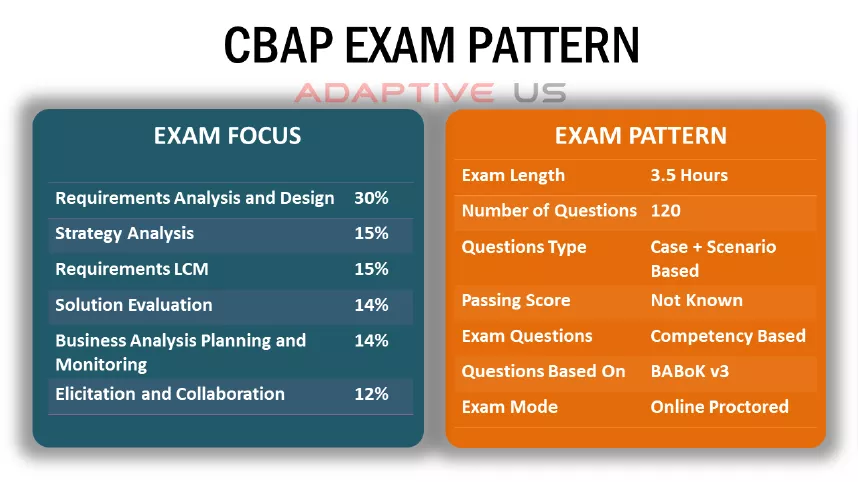 Certified Business Analysis Professional or CBAP is the level 3 certification offered by IIBA, the International Institute of Business Analysis, Canada. It is suited for senior business analysis professionals with 5+ years of Business Analysis experience.
This certification equips business analysis professionals to lead challenging assignments and solve complex business problems with confidence.
CBAP Exam Pattern is as follows:
Requirements Analysis and Design Definition -30%
Strategy Analysis -15%
Requirements Life Cycle Management – 15%
Solution Evaluation -14%
Business Analysis Planning and Monitoring – 14%
Elicitation and Collaboration – 12%
3.5 hours long exam
120 multiple choice questions.
The questions are longer cases (1 to 1.5 Pages of information)
Multiple questions about the case
It is competency-based and aligned with BABOK® Guide Version 3.
Strengthen your Business Analysis skills with CBAP certification training and don't miss the best opportunities in the market.
CBAP Exam location/ Mode: The CBAP exam is conducted in the PSI test center available in all major global cities and can also be taken from home (online remote proctored).
Read Also - CBAP Exam Passing Score

Read Also - CBAP Exam Prep Tips
No Comments Yet
Let us know what you think