How to get Free BABoK Guide in 2023 | Adaptive US
by LN Mishra, CBAP, CBDA, AAC & CCA on May 28, 2018 12:00:00 AM
Scroll down to get our Free eBook - BABOK Techniques Summary
As given in the screenshot below, many professionals look for free BABoK just to save few dollars on their certification exam preparation.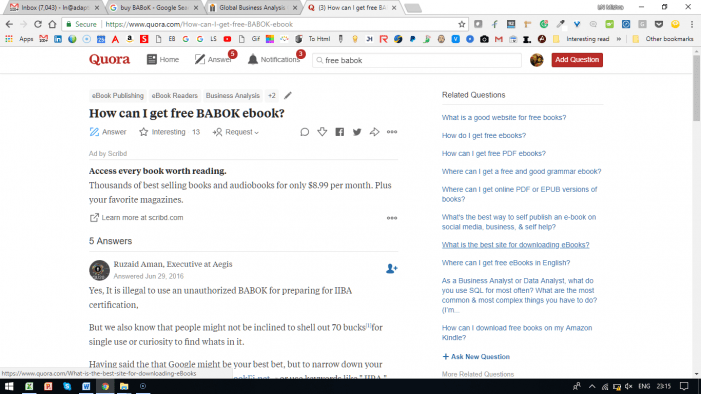 How can I get Free BABoK?
This is quite a common question on social media – Be it Facebook, Quora or any other social media forum (Bit less on LinkedIn – We are our best selves on LinkedIn).
Purchasing BABoK costs close to $50. Some of our BA friends would like to save these $50 – Although it's illegal and unethical.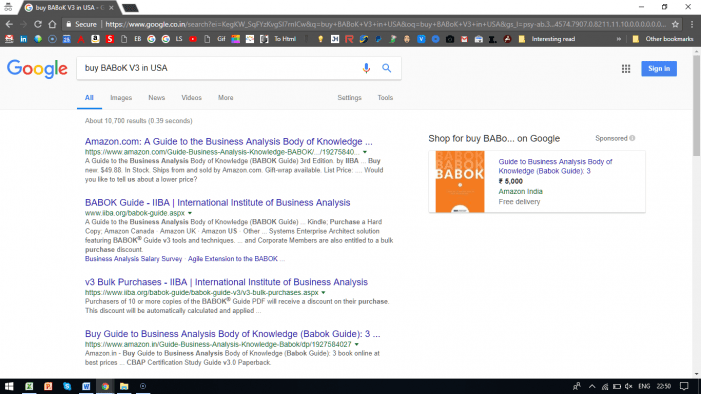 A simple search will give you sites from where you can download BABoK V3 without any payment to IIBA. We have already notified IIBA of this website which shares BABoK illegally.
Option 1: Get IIBA Global Business Analysis Core Standard from IIBA
IIBA Global Business Analysis Core Standard is the essence of BABoK concepts. This is a good guide to go through if you plan to learn basics of business analysis. This is free for non-members as well.
IIBA Global Business Analysis Core Standard
Option 2: Be a member of IIBA to get Free BABoK
BABoK comes free to members by becoming a member of IIBA. IIBA membership costs anywhere between $55 to $125. By being a member, your certification examination fee is reduced by $125. You recover the membership amount either the complete amount or more by becoming IIBA member. IIBA membership allows many more benefits as well.
Your return on investment for IIBA membership is upwards of 2000%.
One invests between 55 to 125 USD to be a member of IIBA depending on one's country of residence.
IIBA membership allows you to access 300+ books worth close to USD 15000. Even when you read 5 books in a year - That itself would be USD 500 worth of return.
Then one gets USD 125 discount on CCBA / CBAP examination fees. That adds up to USD 625.
One gets free access to BABoK V3, Agile extension of BA which adds up another 100 USD to your benefits kitty. That adds up to USD 725.
One also gets access to many past videos and learning materials on the IIBA website.
You also have the opportunity to interact with business analysts across the world. Interacting with a business analyst can help to look for opportunities published on the IIBA website.
Finally having the pride of being part of an excellent community of close to 30000 practicing BAs across the world.
That's truly invaluable.
Now, what are you waiting for? If you are not a member of IIBA, be a member today.
This costs less than the price of a pizza per month but will be a great investment to make you a better BA.
Happy reading and have a wonderful day and to provide your suggestions and comments.
Related blogs
Free BA resources from Adaptive
No Comments Yet
Let us know what you think