Is it worth to wait for 2 years to be a CBAP?
by Sonal Singh on Apr 8, 2019 12:00:00 AM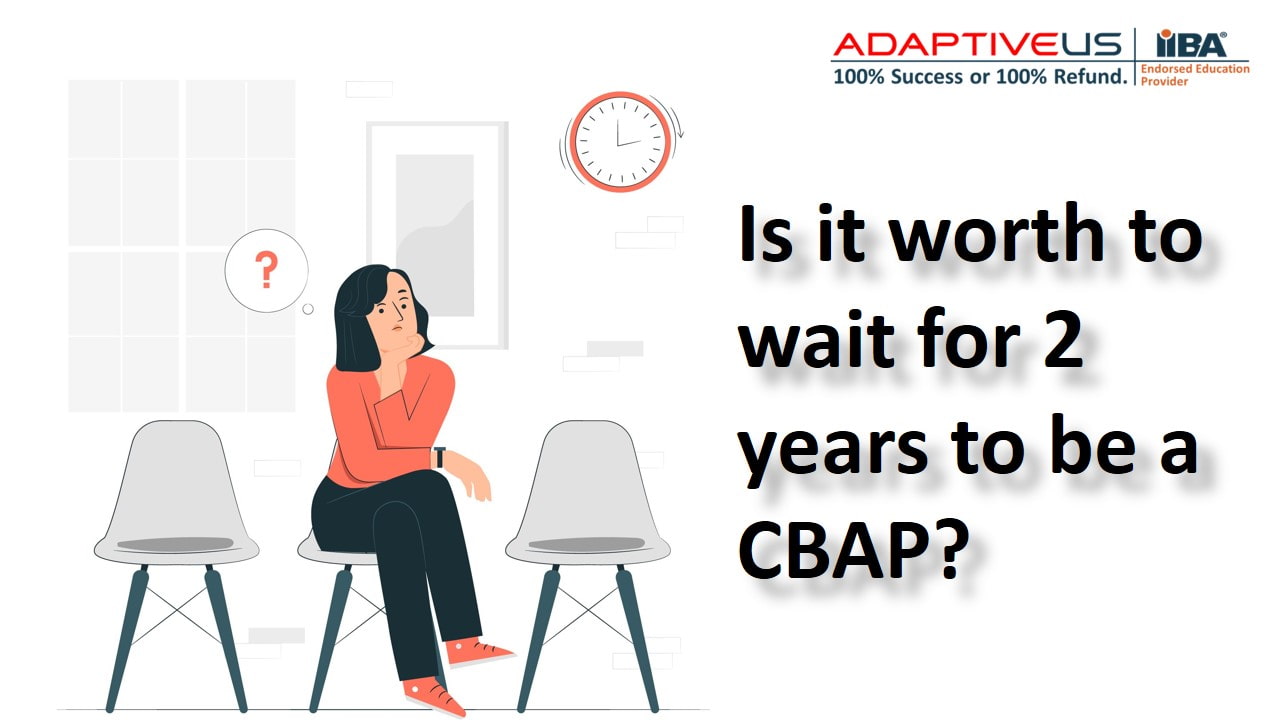 Business Analysis has emerged as one of the core business practices of the 21st century. As business analysts mature in their careers, the expectations attached to their role expands and it is essential that the BA too, expand their knowledge base through training and certifications related to business analysis.
As a business analyst, to grow in the organization and to increase your knowledge, one should definitely look at obtaining a BA certification. Certifications improve knowledge, recognition, work performance, and widen market opportunities. Certified professionals have a definite competitive advantage, they execute projects with increased efficiency, increase their earning potential, continuously update their knowledge and skills and by doing so increase their professional credibility. Certified business analysts also earn a better salary, have better career progression and better job satisfaction. Here are the results of the BA survey carried out by IIBA in 2018: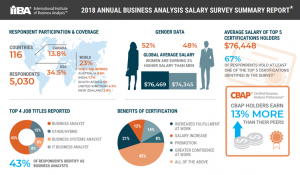 Business analysts with more than 3 years but less than 5 years of experience have this usual dilemma:
Should I go for CCBA or wait for 2 years for CBAP?
Let's compare the facts for both CCBA and CBAP certification :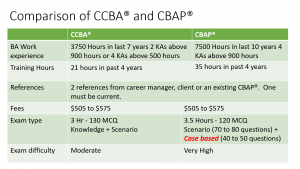 You can go through the blog CCBA vs CBAP - Know all the differences between CCBA and CBAP.
Though the lower limit of eligibility for the CBAP certification exam is 5 years, typically it is advised that the person wanting to be CBAP certified, should have over 6 years of experience as a BA. With 5 years of experience, one might find difficulty in answering the questions and thus in passing the exam.
An IIBA certification cost is covered within 1 year with increased job opportunities and increase in salary. So, it does not make sense to lose out 2 years of higher salaries.
Also, once one completes the CCBA certification, one is better prepared to appear for CBAP.
If it is the training cost which is your main concern, Adaptive US (being an IIBA EEP, provides online training that gives one the required PDU's too), has a great solution. You can train and appear for the CCBA exam now and after 2 years after gaining the requisite experience, you can take training and pay for the additional modules (which are not a part of CCBA) and appear for the CBAP exam. This way you don't have to pay for the entire training all over again and thus save on the overall cost.
Alternatively, instead of going for the CCBA exam now, you can go for the IIBA AAC (Agile Analysis Certification). The world is leaning towards agile now and it will lend great credibility to your profile and knowledge.
IIBA-AAC is competency-based and aligned with Agile Extension to BABOK guide. The Agile Extension imparts the knowledge of business agility and helps in harnessing the value of the business analyst. It is based on the main principles of agile business analysis. The aim is to apply effective business analysis with an agile mindset and a constant focus on delivering business value.
Additionally, IIBA-AAC is comparatively less expensive than CCBA certification.
You can get more details from-
IIBA Agile Analysis Certification (AAC)
IIBA Agile Analysis Certification (AAC) Preparation Process & Tips
IIBA AAC with Success Guarantee. one must be joking!
The table below shows a comparison between the various IIBA certification costs and preparation efforts-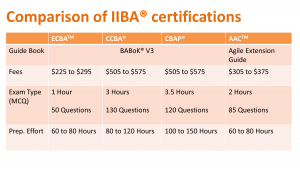 People who excel at problem-solving, communication skills, analyzing, etc., and who are adept at producing successful results for the organization are the ones who are going to be successful as a BA. Getting a BA certification is a step in this direction.
Suggested Reading-
No Comments Yet
Let us know what you think