Jobs that Open the Door to an Awesome BA Career
by Sonal Singh on Mar 1, 2021 12:00:00 AM
The demand for Business Analysts has been on an all-time high due to the growth prospects, career opportunities, strategic involvement in the organization, etc. Business Analysts play a vital role in fixing obsolete processes, bringing in new changes/improvements, and adopting new technologies. A business analyst's career has a proportionate balance of technology exposure and leadership skills.
Here is a simple visual of the typical careers that easily open a path to a BA job due to the dynamism of the role.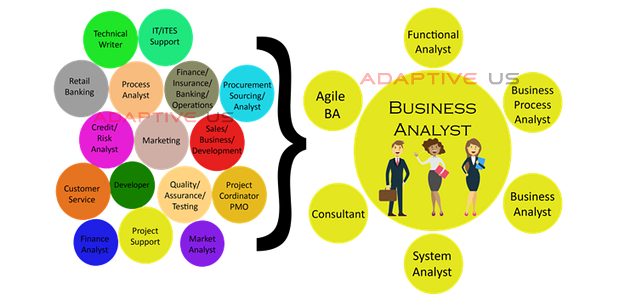 The majority of the companies look for Business Analysts with broader skillsets for problem-solving, excellent communication skills (written and verbal), an inherent ability to work well with employees at all levels of the organization. A business analyst is involved in requirement elicitation, documentation, process refinement, business processes identification, etc.
BAs are often known by other names like business intelligence analysts, business process analysts, or management analysts. You may also be aware of jobs that include aspects of business analysis but lack the formal title.
As per Harvard Business School in their article on How to Become a Business Analyst, 'Business analysts need to know how to translate data into plain language to spur executives and cross-disciplinary teams to capitalize on their findings.'
There are a number of educational paths to becoming a business analyst.
The image and the explanation below show professions from where it is easier to enter the business analysis world. This cross-over is accompanied by learning new skills and tools.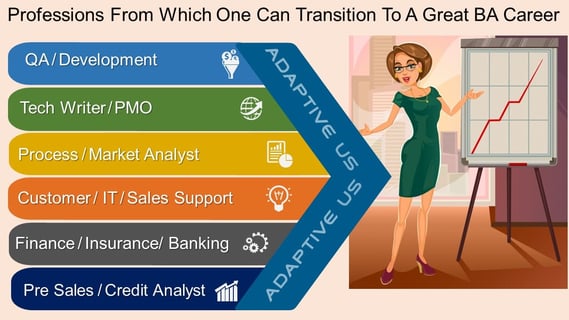 Quality Analyst
In the world of Software Development, it is the quality of the product that counts. Quality assurance professionals are the ones who are responsible for testing the quality of the product, system, or application. Their primary focus is to capture all the defects and ill-functioning of the system and ensure that it behaves in the required and expected manner.
A Quality Analyst with useful transferable skills and a fair understanding of the business field's requirements can offer a good chance of having a career as a Business Analyst in the future.
For those quality analysts looking at becoming a BA, Transitioning Career from Quality Analyst to Business Analyst will be a valuable read.
Tech Writer
A tech writer creates technical documentation that helps to understand the use of a product and service. According to the organization's requirement, technical writers have strong written communication skills with some aspects of business analysis, such as product knowledge, domain knowledge, and elicitation skills. Often in the business world, a single person can effectively handle both the works of a Business analyst and technical writer as the skills required overlap each other. These skills often allow the person to apply for different organizational roles such as those of a Business Analyst as they share common skills and character traits.
The blog 10 Steps to Transition from Tech Writer to Business Analyst gives you a fair idea of what a tech writer needs to do to become a valuable business analyst.
Process Analyst
A Process analyst's primary goal is to assess business requirements and make recommendations based on evidence to support process improvement. They specialize in bringing a change to organizations through analysis and implementation of business processes. They keep track of the organization's business performance, conduct process mapping, and look out for inefficiency within the system.
Those trying to pursue a career as a process analyst require fluency in communication skills, interpersonal abilities, and technical and research experience. Given the skills required, they are pretty close to what is necessary for a Business Analyst's role.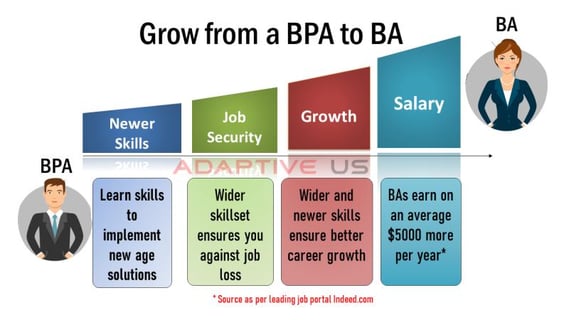 Customer Service or Technical Support
Customer service or technical support professionals help the customers clear their doubts against a service or product and solve their problems. Being an excellent communicator prepares them to handle the challenging aspects of discovering requirements and negotiating all the project scopes. They are experienced in problem-solving and providing creative solutions. They also possess deep experience in using various tools and industries, which further helps them land in a varied role within the business analysis.
Further, to grow into a Business Analyst role, these professionals need to be efficient in taking notes on business analysis tasks, get more involved in project works, and have excellent communication skills.
Finance/ Insurance/ Banking
Financial Analysts or banking professionals are tasked with studying financial data, researching, preparing reports, and making investment decisions for the organization. They need to be strong in statistics and have an understanding of probability, trends, and distribution. An efficient analyst should be capable of spotting trends of complex datasets and makes a proper inference. They are called upon to use financial models and make business decisions.
A banker who is keen on pursuing a career as a business analyst can get valuable pointers from the blog 8 Steps to Transition from Banker to Business Analyst.
Credit Analyst
Credit analysts are usually employed to analyze the credit data and financial information of an organization. They prepare reports based on their findings to decide on creditworthiness. They need to be good decision-makers with a broad knowledge of the financial industry o excel in the industry. They also provide a helping hand to the marketing and the sales department in managing financial orders.
Any of these professions mentioned above can form the foundation of your business analysis journey if that is where your passion lies. To successfully transition into and transcend in the BA career, along with the required skills, what's needed is good career planning. Professionals in these roles often perform roles under the ambit of business analysis without actually being called a BA. Therefore, they already have transferrable skills that can form the launching pad for an excellent BA career that is highly lucrative in terms of opportunity.
One can get trained and acquire the BA tools knowledge and BA skills to start a BA career in the current organization or start looking for one in a new organization.
Given below are some time-tested and successful tips that can successfully transition to an awesome BA career.
Learn the basics of how businesses are run
Learn the business analysis process
Hone your behavioral skills
Learn management tools & requirements modeling tools
Learn the domain of the organization you work in or the domain in which you want to work in
Hone your transferrable skills
Participate in virtual BA special interest groups/communities and attend conferences and lectures on business analysis
Undergo BA training and get Certified by a global entity like IIBA
Find opportunities within your organization
Networking is often key to your success, so learn to leverage it
As per the US Bureau of Labor Statistics Occupational Outlook Handbook, BLS data reveals that in May 2019, half of all US management analysts earned more than $85,260. That compares to a median salary of $39,810 for the US workforce.
This shows that Business Analysts earn higher than what other professionals do and have an excellent career progression path.
Business analysts are one of the best assets of an organization and create great value. They are very vital to the success of a project. As Chris Grosser said, "Opportunities don't happen. You create them." So, if you really want to succeed as a business analyst, you need to get out of your comfort zone, show the grit to move ahead by carefully planning your career path and working towards it. Treat each stumbling block in your career path as a stepping stone. Believe in yourself, work hard and be passionate about what you do. Being focused on your career goal to become a business analyst and overcoming the challenges you face will help you embark on an awesome BA career.
No Comments Yet
Let us know what you think