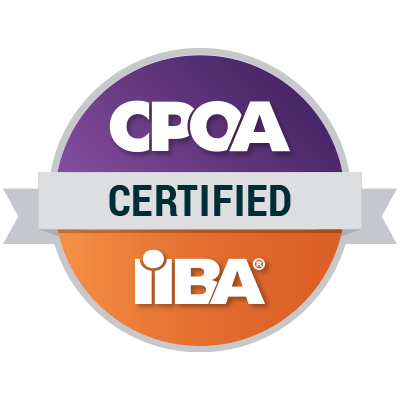 EVERYTHING YOU WANT TO KNOW ABOUT CPOA
What is CPOA Certification?
The Product Ownership Analysis certification (CPOA) programme recognizes the combination of Business Analysis and Product Ownership, as well as an Agile mentality, in order to maximize value. The program gives students the opportunity to learn key concepts for creating successful products. Product Ownership Analysis (POA) is a discipline that has been investigated and analyzed and has a set of methods, processes, and procedures for achieving effective results. POA entails the application of specific procedures as well as the development of important competencies, and it gives the framework, tools, techniques, approaches, and basic Agile values to Product Owners, Proxy Product Owners, and team members.
Product Ownership Analysis (POA) is a discipline that consists of a set of techniques, processes, and procedures that help teams build and deliver excellent goods and services for their customers and stakeholders, using tried-and-true practises from a variety of disciplines.
CPOATM examination targets the following audience:
Work as Business Analysis Professionals

Support Product Owners in their work

Execute Product Ownership related work

Those considering a Product Owner career path

Work as Product owners
Becoming a product owner requires a thorough understanding of the product as well as analytical and strategic skills.

The person who wants to deep dive and become a good product owner needs to understand the market and the stakeholders.

He/she should be able to create a vision and know when to juggle with the items in the product backlog so that the bucket is always prioritized.
| | | | |
| --- | --- | --- | --- |
| | Member | Non-Member | Corporate Member |
| | $345 | $535 | $295 |
| | $250 | $389 | $210 |
| | $145 | $209 | $125 |
CPOA Certification Benefits
CPOA certificate programme gives professionals the opportunity to learn key principles that will help them manage the hurdles of designing successful products.

By acquiring core POA abilities, this certificate assists professionals who work as product owners, support product owners in their job, execute product ownership related activities, or are considering product ownership as a career route to reach their goals.

CPOA Certificate holders will obtain tactical skills to improve product development processes armed with knowledge of important tools and methodologies such as product roadmaps, value stream mapping, user storey mapping, minimum viable product, and storey decomposition.
Also,
Integrating product ownership and business analysis

Understanding roles and responsibilities in product management

Applying Agile and product ownership analysis
CPOA Certification Exam Pattern
The IIBA®- CPOA exam includes questions pertaining to the domains as discussed in the Guide to Product Ownership Analysis.
Type: 60 multiple choices, knowledge-based questions
Duration: 90 minutes
Knowledge Areas:
Apply Foundational Concepts 10%
Cultivate Customer Intimacy 15%
Engage the Whole Team 15%
Make an Impact 15%
Deliver Often 15%
Learn Fast 15%
Obsess About Value 15%
Steps to prepare for CBAP Exam
Once you are ready to take the exam, choose a day when you are relaxed. Set up the exam date preferably after a weekend or, if not, then on Sunday. Don't go for the exam immediately after a workweek; that doesn't let your brain relax. One needs to stay cool and have a good rest before the exam since the exam is quite exhaustive.
You can take the CPOA certification exam from home with PSI Online Exams. It is conducted LIVE and in a monitored environment. You just need to have a webcam, microphone, and stable internet connectivity on your PC/Laptop.
You can do a compatibility check before the exam-
https://www.examslocal.com/ScheduleExam/Home/CompatibilityCheck
All IIBA exams are offered as online remote proctored exams that requires a desktop or laptop, an internet connection, a working webcam, and microphone.
Your location must support Voice Over Internet Protocol (VoIP) in order to complete the exam. Corporate firewalls and VPNs may restrict user access. It is recommended that you use a personal device.
Things to remember before appearing for CPOA Certification Examination
The 'Must Do's for the CPOA Certification Exam
You should have a noise and distraction-free environment.

The desk/table you will use during the exam should be clutter-free and without any papers, books, devices, etc.

Make sure that nobody comes into the room during the exam.

Make sure you have uninterrupted power and the internet.
The Don'ts of the CPOA Certification Exam
Do not attempt until you have a strong foundational knowledge of business analysis as per the Guide to Product Ownership Analysis.

Do not expect the exam to be easy

Do not expect to have the luxury of time

Food, beverages (i.e., water, including chewing gums), attending phone calls, or scheduled breaks during the exam are not permitted.

Do not read questions with lips or whisper loudly
IIBA guidelines to prepare you for your exam day- https://www.iiba.org/certification/exam-preparation/
At the end of all this, the most important point is to stay focused throughout the journey. No amount of study will be enough if you don't set a deadline and work backward.
Keep a target for yourself and work towards it, make some progress every day. Keep some time marked for prep every day and make use of the weekends more effectively.
Hopefully, the details and tips given in this article help you in CPOA Certification exam preparation and achieve your goal of getting CPOA certified in the first attempt.
CPOA Certification Validity
IIBA offers digital badges to certified members as a way to share and validate their business analysis certification achievements. A digital badge is a digital representation of a physical badge and it enjoys all the benefits of being digital, such as being sharable, verifiable, trackable, and having embedded metadata.
Certificate is,
Always Accessible
Never worry about losing your certificate - ever. Your credential will always be present at its web address.
Easily Shareable
You want to share your achievement. Digital credentials let you showcase your achievement on Facebook, Twitter and LinkedIn with one click.
Learning, Verified.
Your achievements can be verified at any time. Your certifications on LinkedIn can be linked to your live credential so anyone, anywhere can see what you have achieved.
About Adaptive US
Adaptive US is the world's #1 IIBA Certifications training organization. We have helped 1000+ students complete IIBA certifications. Adaptive US provides CBAP, CCBA, CPOA, AAC, CBDA online training, question banks, study guides, simulators, flashcards, audio books, digital learning packs across the globe. Adaptive US is the only training organization to offer success guarantee and all-inclusive plans for its workshops.
Adaptive US is an IIBA EEP and gives you all the above-mentioned deliverables. It is the only training organization that provides CBAP certification training with Success Guarantee.
Key facts
World's largest BA publisher and assessments provider.

Premiere Partner to IIBA, Canada.

1000+ certified BA professionals.

300+ BA workshops - 6000+ BAs trained.

Our trainers are part of BABoK V3 authoring and exam committees and have served 200+ top-notch clients including Wells-Fargo Bank, Credit Suisse, HP, CGI, AXA, AkzoNobel, Ness, Unisys, etc. We are proud to have a 100% key client retention rate.
Vision
To be the most admired business analysis solutions provider in the world.
Mission
To help our participants and clients succeed in their business analysis career and endeavour.
Quality policy
Delight customers through innovative, timely and cost-effective solution.
Proven Capabilities
Adaptive has successfully completed over 300+ business analysis and requirements engineering workshops. Our BA trainers come with cumulative experience of 100+ person-years. Adaptive has significant expertise in helping clients in their business analysis and requirements engineering competency development. Adaptive has been associated with the world's largest paints manufacturing company for improving their business analysis and requirements engineering competency.
Success Guaranteed Training
After following our recommended approach, if a student fails to clear the exam in the 1st attempt, we pay the exam re-take fees and if a student does not clear in the 2nd attempt, we refund 100% of the course fees. We succeed with your success and fail with your failure.
Excellent Feedback
Adaptive workshops have received excellent feedbacks. Customer feedbacks are available at CPOA-review (adaptiveus.com)
Success Rate
We have certified 255+professionals for CPOA, while maintaining a 97+% success rate. Rest assured; you are in the best hands to succeed in the very first attempt.
Practitioners Who Train
All Adaptive trainers are practicing business analysts who have shaped the industry, been authors of BABoK and have been part of the exam setting committee. They have implemented and have been practicing BA concepts for improving BA competency for their clients for more than 20 years. All of them are proficient in requirements engineering activities and tools and are CBAP® certified.
Personalized Attention
With Adaptive, you are assured of personalized attention from every member in Adaptive. We take pride in the fact that almost all our clients have come back repeatedly to us for their services. do not succeed in your first attempt, we will pay your re-take fees.
The course content is designed by mentors and coaches who have expertise in the BA field and have full knowledge of the CBAP certification exam pattern. The experts spend a great amount of time and effort creating the content as required by IIBA and periodically review it and make changes as needed.
Adaptive's first attempt success rate is more than 95%. This is indeed the best success rate for any training institute. Take a look at our past successful participants on our website. Also, take a look at our past feedback https://www.adaptiveus.com/cbap-feedback/
Easy Online Classes
Classes can be taken from home with class recordings to re-watch classes later.
We Support You till You Pass
Re-sit for classes at no extra cost if you did not pass on the first attempt, along with success guarantee
BA E-learnings
Adaptive has developed e Learnings on business analysis and requirements engineering concepts for continuous learning.
Accreditations
Adaptive is an endorsed Education Provider for International Institute of Business analysis (www.iiba.org), Canada. One-stop solution and your partner for all your BA learning needs - We specialize and offer only Business Analysis related skill development courses.