Business Analyst from Business Process Analyst - How to
7 min read
Mar 18, 2021 12:00:00 AM
As per a survey by Indeed.com, Business process analysts earn a dismal $5000 less than their counterparts, Business Analysts. The good part is that it is relatively straightforward for Business Process Analysts to move into a Business Analyst role as they perform pretty similar tasks and responsibilities. In this blog, we discuss a step-by-step approach to becoming a business analyst.
As per CIO.com, ' Business analysts help guide businesses in improving processes, products, services, and software through data analysis.' The Business analyst's top responsibility is to identify changes and improvements to the systems and processes. In the process, they prioritize functional & technical requirements to get to the desired output. They formulate ways to take the organization from its current position on its growth path to a higher one.
There are several processes that are running in an organization for its smooth functioning. As the organization grows, these processes and systems become obsolete, need revamping, modernizing, and automating. A Business Process Analyst or a BPA takes all the requirements and creates the "To - Be" processes. They align the reality of the business with its goals and steer it in the right direction. They typically work on the operational part of business processes called the "As-Is" process. They create process models by using the process/ workflow software. The business executives analyze these models thoroughly, and that helps them in finalizing the process that will best work for the organization
A business analyst typically orchestrates the change by refining the existing processes or creating new processes and automating the business processes. They gather the requirements, analyze the gaps between the "As-Is" and "To-Be" process models assimilated by the BPA, and finalize how to create the most efficient processes.
In short, while a BPA typically focuses on activities taking place outside an automated system, automation is most often an integral part of a BA's role.
The image below shows the differences between a BPA & a BA-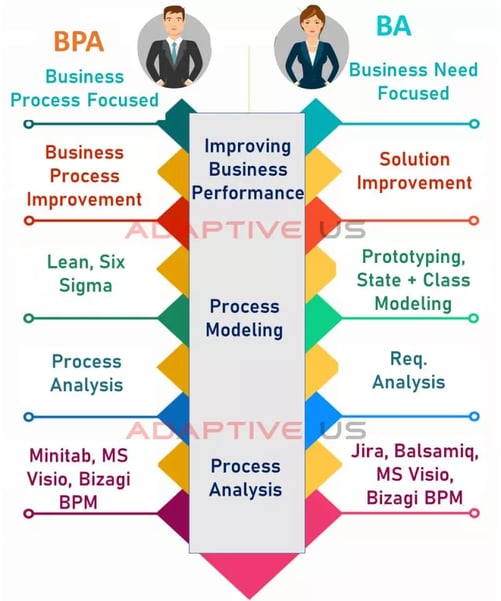 A business analysis role can be a natural progression for a BPA with a couple of years of experience.
Industry reports indicate that business analysis's scope of growth as a career prospect is much higher than other careers, and the salary they earn is also higher than average. The report predicts an all-time high growth rate of 14% from 2014-2024.
It becomes easier for BPAs to step-up to a BAs role as they already have the technical and analytical skills needed to be a BA. A business process analyst has to harness their existing experience and transferrable skills and learn the new skills required to be a BA. Undergoing business analysis training helps reach this goal more successfully.
In this blog, some core steps are listed that will help a business process analyst to smoothly transition to a business analyst role.
Learn the BA Process, Tools & Techniques
Business analysis follows a process, and if you want to excel in the BA field, you need to have a good understanding of this process.
A free resource is available from IIBA called the Business Analysis Core Standard for learning the business analysis process. It is one of the best resources you can lay your hands on. Being just about 50 pages long, it is packed with an informative overview of the BA process and clearly conveys how business analysis is performed in an organization.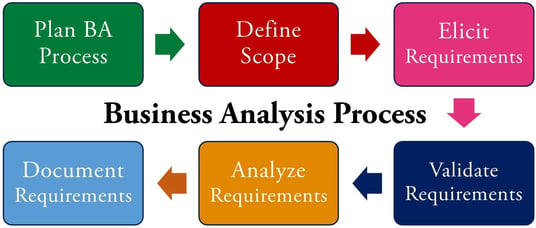 Business analysts use several tools to perform their tasks effectively. They need to be proficient in tools that help them perform business process modeling, state modeling, and use case modeling. Tools like Microsoft Visio, Lucid chart, BizAgi Business process modeler, etc., are very efficient and extremely popular with the BAs.
A BPA should make themselves adept at using these tools with proper training and practice. The Inner Circle has great BA resources and information, along with the opportunity to get hands-on training and practicing the tools.
Deep dive into your domain and industry
According to BABoK, a domain is an area that is undergoing analysis. This can cover an entire organization or just a unit within the organization. While it is true that business analysis skills are transferrable across domains, it is also true that to elicit requirements effectively, to analyze, synthesize and evaluate, knowing the domain thoroughly is a prime requirement.
An analytical mind and approach can be a potent tool for learning domain knowledge. A sizeable number of resources are available over the internet on nearly all domains. For learning about your organization's domain, take a look at the business (domain) terms repository available in your project or with the client. There are handbooks available on every domain over the internet. The handbook gives a good idea of how the domain functions. For a successful business analyst, stakeholder acceptance is a crucial factor, and having a good insight and knowledge of your domain gives you just that.
Behavioral Skills
A business analyst is a bridge between stakeholders, customers, and technology architects. They have to interact with a broad set of people like sponsors, domain SMEs, end-users, stakeholders, and suppliers. Skills like communication, stakeholder interaction, active listening skills, facilitation, conflict resolution, creative thinking, etc., are of great importance to succeed in a BAs role.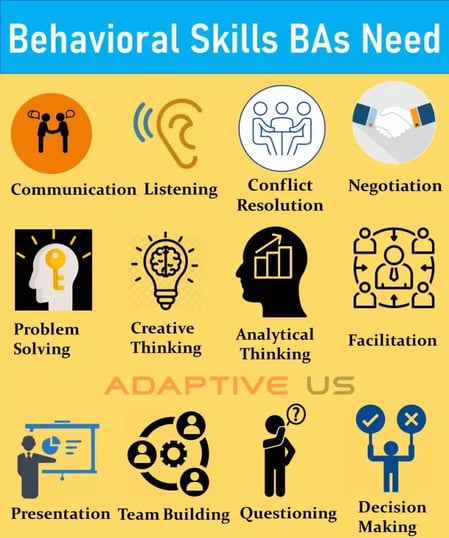 Behavioral skills are a crucial trait for business analysts. You can master them through extensive practice.
Training & Certification
Getting certified and trained as a business analyst helps improve the skills and business knowledge of a professional. The BA certifications help in broadening the perspective of various BA techniques and approaches. They also augment performance while removing uncertainties and expand market opportunities.
It will be highly beneficial for a BPA to undergo BA training and become certified. For someone entering the BA field, the entry-level certification from IIBA, ECBA, is an excellent choice. This certification helps you get a rock-solid foundation to begin your career as a business analyst. It covers topics like requirements elicitation, requirements analysis & management, stakeholder management, techniques used by BAs, etc., all of which are a must-know for a business analyst.
Business process analysts who have quite a good number of years of experience and who have performed some amount of business analysis work can even opt for higher-level certifications like CCBA and CBAP.
Studies have shown that professionals from various fields have successfully transitioned into the BA field after undergoing ECBA training and certification.
Below is the brief career graph of some of the BPA professionals who trained with Adaptive and are now successful BAs.
Sarah Beasley was working as a BPA for over two years. She wanted to step-up in her career to a BA's role. Sarah started learning about business analysis herself and decided to get ECBA certified. She realized that ECBA certification would give her better job prospects and make her well-versed in the skills and techniques a BA should know. She joined Adaptive's ECBA training program, and with the help of excellent resources and trainers, Sarah achieved her goal and became ECBA certified. She is now a confident BA with an arsenal of skills to help her in her BA career.
Beulah Joseph was a senior BPA and was performing some business analysis related work for her organization. She underwent CBAP training with Adaptive and became certified. The training gave her an excellent understanding of the BA concept and made her a very confident business analyst.
Elicitation & Requirements Analysis Skills
Requirements are the very basis of every project, and elicitation is the fundamental research in the requirements gathering phase. The process of discovering, analyzing, defining, and documenting requirements is called Requirements Analysis.
There are several techniques that a business analyst uses for this. There are nine techniques listed by the BABoK, namely- Brainstorming, Document Analysis, Interface Analysis, Focus Groups, Interviews, Observation, Prototyping, Requirements Workshops, and Survey/ Questionnaire. A business analyst should know when and how these techniques are to be used.
For any professional who is keen on pursuing the business analysis field, learning and honing these skills is imperative as mistakes made during the elicitation and requirements gathering phase can cause the failure or abandonment of the entire project resulting in huge loss.
Learn about the Implementation process
There are several tasks that a business analyst carries out at the time of implementation. During the implementation phase, most of the workarounds and prioritization are carried out. To achieve the business objectives and ensure that the project is successful, these tasks are of utmost importance.
A business process analyst should learn the various processes, techniques, and nuances involved during the implementation process.
Look out for a BA Role Change
Once you complete your training and certification, you can look for opportunities in your organization. A good option is to speak to your manager about your career aspirations and appraise him of your newfound knowledge and see if you can be given opportunities in smaller projects within the organization to practice the BA skills and techniques. This will help you gain experience as a business analyst in a familiar industry and domain. Moving on to the role of a BA in your domain is definitely a winning strategy.
Involve yourself proactively in the requirements gathering and documentation process. If you can shadow the lead business analyst for a particular project, it will help you practice the concepts and skills you have learnt.
If there are no significant opportunities to be found with your current employer, prep up your resume for a BAs role. Highlight how your experience as a BPA qualifies you for this position. List out projects where you have done some analysis work. Showcase your ECBA certification details along with the training that you went through and the skills you learnt.
If you apply and follow the steps outlined above judiciously, you will be able to step-up to a BAs role without much hassle. A business analyst should always be at the top of his game and endeavor to keep themselves up to date with the technological and other advancements.
A good business analyst is priceless to the organization. To be a competent BA and one of your organization's best assets, try and grab all the available opportunities and stay a step ahead by preparing yourself for the future.
Remember, every career change comes with its risks, but once you have prepared yourself for the change and made the decision by taking your foot out of your comfort zone, success will follow. As far as career changes go, you will likely figure out that transitioning from a business process analyst to a business analyst will be quite a smooth sail for you.
No Comments Yet
Let us know what you think