Ten Deadly Failure Traps to Avoid During IIBA Exam Preparation
9 min read
Oct 6, 2021 12:00:00 AM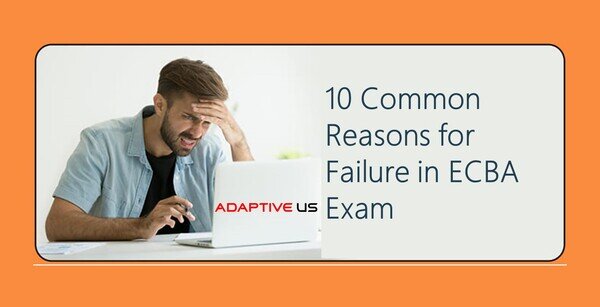 Globally, business analysis is recognized as a key discipline for organizations. Business analysts enable the enterprise to design and describe the solutions that will deliver value and clearly articulate its needs and the rationale for change. You can conduct business analysis in one project or throughout the organization. Business analysis helps in understanding the current state of the business, defining its future state, and determining the steps needed for transition.
This skill has been in high demand and has been experiencing a significant growth rate over the past few years. LinkedIn Learning has identified it as the most sought-after skill and the US Bureau of Labor Statistics as the "hot skill to acquire."
A 14% industry growth was projected between 2014-2024*, making the BA profession one of the fastest-growing occupations. The career opportunities for BA graduates are promising.
*Source: US Bureau of Labor Statistics
Business analysts often get caught up in their daily grind. They only perform one aspect of this dynamic role, and they keep themselves away from practices/techniques that extend beyond their organization's boundaries. To climb the professional ladder and be successful, it is essential to get a holistic view of the profession and be skilled in tools and techniques practiced across the industry.
Certifications like IIBA, which are industry-specific, can help you establish yourself in the field and allow for much-needed career growth. It opens up loads of opportunities for business analysts and development in terms of skill, personal branding, career growth, and visibility, to name a few.
This article is for people who want to obtain IIBA certification on their first attempt without falling for the fatal failure traps.
This article will cover:
Strategies to ace the IIBA certification exam
Choose the certification you want

Formulating a study plan that works for you

Prepare with the best resources

Choosing the right Mentor

Submit your application without overthinking

Prepare yourself with the proper exam simulator tools

Learn the best ways to manage exam anxiety

To ensure a seamless exam experience, set up a good infrastructure
The most common failure traps many certification exam takers have fallen for
Instead of learning the terminologies and understanding the flow, memorize BABoK

Too much on one's BA experience

Inadequacy of understanding of BABoK terminology and expectations

Not having the right resources, model questions, and simulators to practice.

Expect direct questions from BABoK

Poor time management

Exam anxiety/Getting stressed

Underestimating exam complexity

Inadequate preparation

Stress based on the difficulty level of the questions
Strategies to ace the IIBA certification exams
Selecting the certification to pursue
For building a solid foundation in the Business Analysis field and wanting to become a skilled and distinguished BA, you should get formally trained and certified in IIBA certifications
IIBA Certifications are the most desired BA certifications for business analysts to excel in their careers.
The core certifications of IIBA include ECBA and CCBA, CBAP, and four other specialized certifications, such as AAC, CBDA, CPOA, and CCA.
Core certifications are a long-standing tradition. These core certifications are very popular because they emphasize business analysis skills and techniques. The IIBA has established specific eligibility criteria for professionals who wish to take the certification exam.
The following points can be used as a guideline while deciding which certification to pursue:
ECBA is for beginners/newbies and college grads looking to transition to a BA profession or start a career in the field.

Professionals who have worked as a BA for at least 2.5 years and have a minimum of 7 years of work experience should consider CCBA.

CBAP is for professionals with a minimum of 5+ years of work experience in the last ten years of their BA profession.
Sometimes, a person may not be designated as a BA, but they may still be performing the duties of a BA. Some of these roles can be-
ERP Implementation

Product Implementation

Process mapping and improvement

Consultant in change management

Functional consultant
The biggest myth about IIBA certifications is that one must first complete the lower-level certifications before moving on to the higher certifications. You can apply for any certification without having to go through the previous levels.
How to create a study plan that works for you
You can plan to study for an hour per day or 6-8 hours of study per week.

Plan your study type based on the kind of learner you are. e.g., kinesthetic, auditory, visual, etc.

A mentor/instructor-led class is the best place to start with, followed by studying the concepts from the BABoK/KAs.

Experts provide a simplified way to interpret BABoK as well as the underlying concepts. This makes it easier to follow and grasp concepts.

Do self-study in each knowledge area and take quizzes or questions based on each knowledge area to test your knowledge.

Take practice exam question
Timeline:
Training Sessions - 4-8 Weeks

BABoK reading - 3-4 weeks

Study Guide Reading

Revise Handbook and key concepts
Quizzes:
Chapter-wise tests

Revising the areas which you find challenging or have faltered

Exam simulation
Flashcard, Audio & Video Learning
Prepare with the best

resources
Although BABoK is the best guide to help you prepare for the IIBA core certifications, the sheer volume of the book makes it intimidating. Additional study material should be included to aid in understanding the main BABoK concepts. This will make preparations much more effortless.
The best method is to obtain a BABoK Study Guide from an IIBA-endorsed training provider along with other curated content such as study guides, audio & video learning, question banks, and exam simulators, exam tips & preparation plans.
Well-organized study content will help you reduce study time and make your preparations more efficient.
Additive's most popular eBook, 200 IIBA® Exam Prep Questions, is an incredible resource that will accelerate your journey to becoming a highly-paid and sought-after IIBA Certified Business Analyst.
The selection of the right Mentor is an integral part of your IIBA certification exam preparation. Mentors are usually IIBA-certified trainers or coaches who are experts in business analysis. Make sure your Mentor is IIBA approved.
Your Mentor's help in decoding BABoK can be priceless. The entire process can be made less hassle-free if you have a mentor to help you prepare for the certification exam.
Submitting your application without breaking your head
You can fill out the certification application through the IIBA website. The Handbook- core-ba-certification-handbook.pdf (IIBA®.org) gives detailed steps on filling out the application form.
Adaptive US offers an Application Simulator in its Certification Prep Training. This simulates the certification exam and meets all requirements of IIBA.
Prepare yourself with the right exam simulator tools
Simulated questions are an excellent way to prepare for the different types of questions you'll face in the actual exam.
Read the explanations for each answer during the test. These explanations will assist you in evaluating your strengths and weaknesses. Examine and revise the areas where you've failed again.
These simulation practice tests will give you the best feedback about your exam readiness. These practice tests will let you know how well your understanding of the BABoK is.
If you score consistently over 80% in all knowledge areas of your simulation exams, you can consider yourself ready to take the certification exam.
Learn the best tips for managing exam anxiety
BA professionals may not have written an exam in a while. For them, it can be pretty stressful to think about writing one. While it's normal to feel nervous about taking an exam, exam anxiety should not be overwhelming.
The following can be helpful in managing exam anxiety.
Exercise regularly and eat healthily.

Sleep well

Learn relaxation techniques

Having a positive mental attitude is a critical success factor

Maintain a structured and regular study schedule

Don't be anxious about the feeling that you have 'Inadequate Preparation'

Take the practice exams several times. Your anxiety should decrease once you score well on these practice exams.




Setting up the infrastructure to make your exam experience seamless
IIBA certification exams are now online. This has made it easier for the BAs, as they can now take the exam online from the comfort of their home.
Live exams can be proctored remotely, with the requirements being a computer or laptop with an internet connection, a webcam, and a working microphone.
You need to consider the infrastructure requirements-
You must ensure that you have all the necessary hardware for the exam.

Online proctored exams are dependent on internet connectivity, firewalls, VPN, camera quality, and camera quality.

These must be functional and of high quality.

Perform the compatibility test on the scheduling website- https://home.psiexams.com/#/home.

This will weed out any issues that can happen during exam time.
The Ground Rules for IIBA online Examinations blog gives you an in-depth view of all infrastructure requirements and the rules that will apply to the IIBA certification exam.
The most common failure trap where most exam takers stumble

.
Blindly memorizing BABoK instead of understanding the terminologies
IIBA exams such as CBAP and CCBA are competency-based. You will need to comprehend the BABoK concepts and apply them to answer questions on the IIBA exam. It is crucial to understand the techniques, tasks, and their relationship with one another. Although it can be helpful to retain some concepts from BABoK, you will not be able to answer questions by rote.
Relying too much on one's Business Analyst experience
The IIBA certification exam questions should be answered based on general business analysis practices and not your personal experience as a BA. Instead of using your business experience to answer questions, you will need to apply BABoK concepts to real-world situations and then answer questions. Your exam performance can be affected if you are unable to correlate the knowledge from BABoK.
Inadequacy in understanding BABoK terminologies and expectations
IIBA exams such as ECBA are knowledge-based. Thus, you will need to be familiar with the specific terminologies to answer the questions correctly. Higher-level IIBA exams may use terms from BABoK which are not commonly used in your company. Familiarizing yourself with the terms in BABoK and relating them to the terms used in your organization is important. Therefore, to pass the exam, it is vital to be familiar with BABoK terms.
A good BABoK glossary that explains the various terms is handy and valuable.
Not having the right resources, model questions, or simulators to practice
It will be challenging to pass the exam if the resources, practice questions, and simulators that you use are inadequate or not based on BABoK.
An IIBA Certification Training Course will provide you with the necessary resources to prepare for the certification exam. This will be helpful in determining the best study methods for you.
Participate in the Interactive Exam Tips Webinar and increase your chances of passing your exams on the first attempt.
Expecting direct queries from BABoK
Many people fail the exam because they expect to receive direct questions from BABoK. Exams like CBAP have complex and lengthy application questions and no direct questions.
Poor time management
One critical skill for cracking the IIBA certification exams is time management. There are a lot of cases of people having difficulty completing the exam. Many of our students from the past have said that they could pass the exam just in time.
Some questions that are case-based or mathematical take more time than others. Therefore, it is vital you keep track of the time spent on answering each question.
It is vital to develop a time management strategy that will maximize your time during the exam.
Getting Stressed / Exam Anxiety
Exam anxiety can ruin months and even years of preparation and hard work. But it can be reduced with a variety of strategies, which we have discussed in this blog. Practicing these steps diligently can help you stay relaxed and ready on exam day.
Underestimating exam complexity
Professionals with extensive BA experience may feel that due to their experience and knowledge, they will breeze through the IIBA exam like a pro.
Failure in the IIBA exams can be caused by underestimating the exam's difficulty, becoming complacent and careless. While having BA experience is a great asset and a valuable tool, it is not enough to succeed in the IIBA exams. You must dedicate time to read and prepare from BABoK to achieve your certification goal.
Inadequate preparation
The following are some reasons exam preparation is inadequate.
Do not take the exam too soon, especially if you aren't sure of your preparation level; wait to become familiar with BABoK concepts before submitting your application.

Inadequate preparation time - IIBA exam requires a dedicated amount of time to learn and grasp concepts. Failure in dedicating ample time to studying can lead you to fail the exam.

Not having guidance from a right mentor/coach

It is recommended that you attend an IIBA certification training course under an EEP(recommended by IIBA). Statistics show that applicants who take prep courses have a greater chance of success.

Inadequately preparing for questions - It is well known that practice makes a person perfect.

It is essential to practice sample questions for the exam as often as you can. Taking up simulation tests will help you understand the complexity of the questions you will be asked.




Stress based on the initial difficulty level of the questions
Many exams use this approach to test applicants, where the initial questions are more complicated. This is to assess the candidate's mental strength, confidence, and ability to handle complex tasks.
You will be able to perform better if you keep your cool and don't get stressed out.
Hopefully, understanding these strategies and common errors will help you plan your path to certification that will get you the IIBA certification.
No Comments Yet
Let us know what you think