Accountants: How to Bag Your Dream BA Job in 2023
by LN Mishra, CBAP, CBDA, AAC & CCA on Nov 29, 2022 4:17:23 AM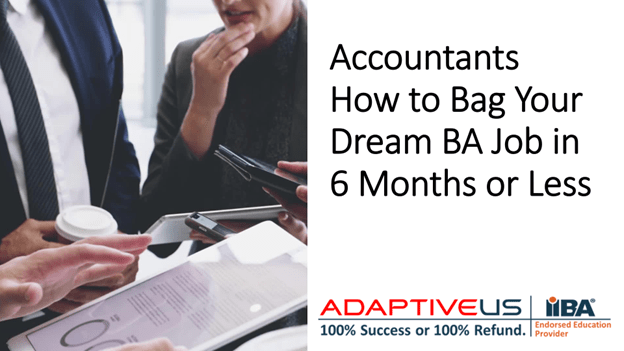 As an accountant, you're in a unique position to understand and analyze a business's financial data. You have the skills to not only identify trends but also to forecast future performance. This makes you an invaluable asset to any organization, and it's a skill that can be leveraged into a career as a business analyst. In this blog post, we will explore how you can use your accounting skills to become a business analyst. We will discuss the different roles and responsibilities of a business analyst and the skills and knowledge you need to succeed in this career. This is the perfect post for you if you're looking for a challenging and rewarding career change.
Why Business Analysis is an Exciting Career
Business analysts play a vital role in helping organizations achieve their desired outcomes. They are responsible for identifying business requirements, conducting analysis, and developing recommendations to improve business processes.
The excitement of being a business analyst comes from the challenge of finding creative solutions to complex problems. Business analysts must have strong analytical and critical thinking skills to be successful in this career. They must also effectively communicate their findings and recommendations to various stakeholders.
A great deal of satisfaction comes from knowing that you have helped an organization improve its operations and achieve its goals. So, if you are looking for an exciting and challenging career, consider becoming a business analyst.
What Skills are Required to become a Business Analyst
In order to become a business analyst, one must possess strong analytical and problem-solving skills. The ability to think critically and identify patterns is essential in this role. Business analysts must also be excellent communicators, clearly articulating their findings to both technical and non-technical audiences. Additionally, business analysts must have a strong understanding of business processes and be able to document requirements effectively. Familiarity with various business analysis techniques is also required.
What Skills are possessed by Accountants
Accountants possess a wide range of skills. Several of these skills are highly transferable to the business analyst role. These include:
Analytical skills: The ability to analyze data and draw conclusions from it is crucial for both accountants and business analysts.

Communication skills: Accountants must communicate complex financial information clearly and concisely. This skill is also essential for business analysts, who must be able to communicate their findings and recommendations to clients or senior management.

Attention to detail: Accountants must be able to pay close attention to detail to maintain the accuracy of their records and reports. This attention to detail is also helpful for business analysts, who often review large amounts of data and identify trends or anomalies.

Organizational skills: Maintaining accurate records and preparing reports in a timely manner requires strong organizational skills. Business analysts also need good organizational skills to keep track of all the data they collect and synthesize it into meaningful insights.
Transferable Skills from an Accountant to a Business Analyst Role
There are many skills that an accountant can carry forward to a business analyst role. An accountant is used to dealing with large amounts of data, analyzing it, and drawing conclusions from it. They are also used to working with financial models and understanding how businesses operate. All of these skills are vital for a business analyst. They need to understand complex data sets and make recommendations based on their findings. They also need to be able to build financial models and understand the financial workings of a business.
An accountant who wants to become a business analyst should consider taking additional business analysis or project management courses and training. These will give them the specific skills they need to be successful in this role.
Steps to move from an Accounting career to a Business Analyst career
There are many reasons why an accountant may want to transition into a business analyst role. Perhaps they have developed an interest in business analysis and want to learn more about the profession. Or they may be looking for a change of pace and a new challenge. Whatever the reason, moving from accounting to business analysis can be a great career choice.
Here are a few steps to help you make the transition:
Educate yourself on business analysis
If you're interested in becoming a business analyst, you must first educate yourself on what the profession entails. Read articles, books, and blogs on business analysis. Attend workshops and seminars. And connect with other professionals in the field. The more you know about business analysis, the better prepared you'll make the transition. Adaptive US offers a BA Bootcamp, an extremely valuable course for building BA skills and getting IIBA certified.
Assess your skillset
Accounting and business analysis both require strong analytical and problem-solving skills. But some specific skills are needed for success as a business analyst. Take some time to assess your skillset and see where you may need to brush up or gain additional experience.
Network with other professionals
One of the best ways to learn about business analysis and make the transition into the field is to network with other professionals. Attend industry events, join professional organizations, and reach out to others in your network who are business analysts.
Get trained and certified in business analysis
While certification is not required to become a business analyst, it can help demonstrate your commitment to the profession and boost your credentials. Several different certification programs are available, so research which would best fit your needs and goals.
Update resume and LinkedIn profile
It is important to spruce up your CV and LinkedIn profile.
Explore BA opportunities/internships / remote jobs
Research companies that are hiring business analysts. LinkedIn, again can be a great place. Recently, IIBA has also created a career center that lists 10,000+ jobs.
If you have any further questions, do write to us at Info@AdaptiveUS.com
No Comments Yet
Let us know what you think