What is Business Analyst salary? Download BA Career Guide
Become an in-demand BA in 6 months or less!
Talk to our Learning Advisor Today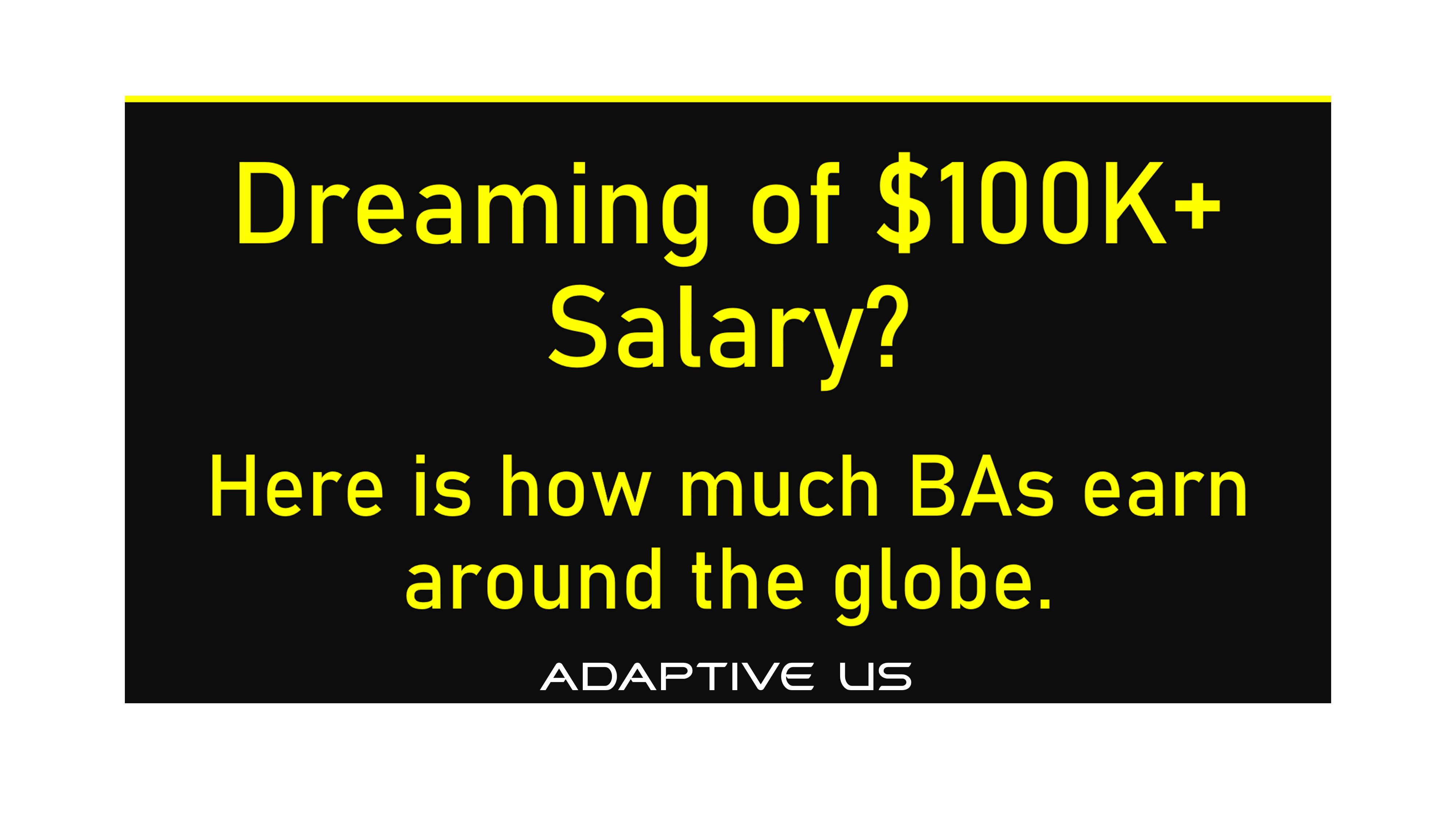 Business Analyst Salary
Business analyst salary is determined by various factors such as location, qualification, experience level, and job specialization. For example, BAs' average salary in the Asian region is not as high as the average salary in North America. Analysts in the UK who specialize in data processing may receive better compensation. Compensation also depends on the company you are working for. Many prominent analytics companies specializing in Risk and Market Analytics profiles usually tend to pay higher entry-level salaries. Even though many consulting and services firms might pay you a lower basic compensation, they make it up by offering a lucrative bonus at the end of the year.
IIBA conducted its annual salary survey for the year 2020 with 5491 participants from across 129 countries. The main factors that were considered when conducting the study were age, education, employment experience, salary, career development, certification, business analysis maturity level, agile approaches, digital transformation, and cybersecurity. It reported that there had been an active growth in agile, product ownership, data analytics, digital, cybersecurity, and other areas of work that come under the practice of business analysis. The survey reports a global average salary of $72,228 for women and $66,305 for men, with the global pay for women being 9% more than men's salary.
The majority of respondents were under the age bracket of 25-35 years, with 40% being female, 59% being male, and 1% non-binary. 40% of respondents held a bachelor's degree, 35% had a master's degree, and the rest held associate degrees, with only 2% having a Ph.D.
With the age bracket of respondents leaning on the younger side, around 80% were employed as full-time business analysts. A majority of 46% with 2-10 years of work experience were hired. Countries like the USA, Australia, and the United Kingdom having a high average salary package ($94,343), mostly employed BAs with a minimum work experience of 10.5 years.
Career opportunities as a business analyst are plenty, with some major specializations like data analyst, information security, IT, quantitative analysis. Hence, BAs have a lot of employment options making business analyst one of the most sought-after jobs. Almost 80% of the global survey respondents worked in the private sector, while others were divided among education, government, and non-profit organizations. Top industries that hired business analysts were IT, healthcare, banking, and transportation, with all these sectors providing a global pay average of $82,100.
Worldwide average salary ranges for business analysts based on experience:
Entry Level: $40,000 to $70,000

Mid-Career: $55,000 to $95,000

Experienced: $70,000 - $150,000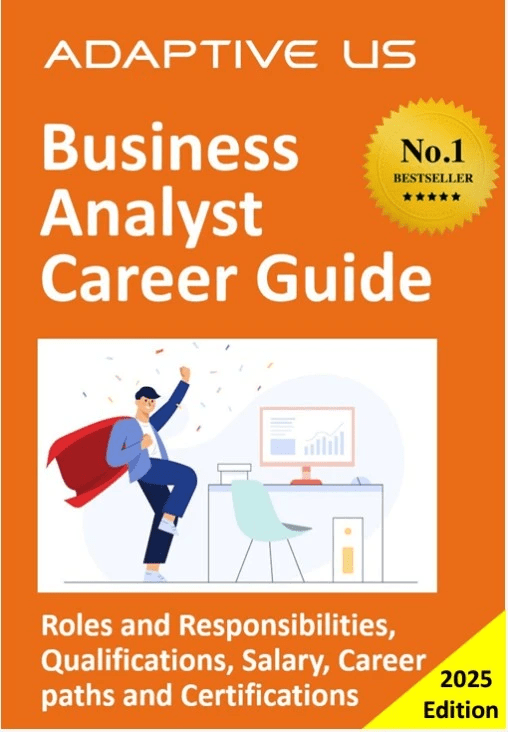 The average salary comparison of BAs by countries:
Let us have an in-depth look at regional salary and benefits of BAs USA, Australia, Canada, and the UK, that have higher average salaries compared to other countries:
USA:
The United States has an average BA salary of $104,502 (in US dollars USD)

Average salary by gender: Women - $102,979 USD, Men - $107,210 USD.

Average salary by education level: Bachelor's degree - $101,135 to $101,729 USD, Master's degree - $105,729 to $109,317 USD

BAs who hold a certification have a higher paygrade of $121,364 to $124,096 USD.
In the USA, BAs are working mostly for finance, consultation, pharmaceutical, and IT industries. BAs working for consultation / professional services earn around $146,982, which is 41% more than the country's average salary.
CANADA:
Canada has an average BA salary of $108,090 CAD (in Canadian dollars CAD)

Average salary by gender: Women - $97,620 CAD, Men - $115,520 CAD

Average salary by education level: Bachelor's degree - $85,517 to $91,643 CAD, Master's degree- $102,637 to $110,402 CAD.

BAs who hold a certification have a higher pay grade of $87,886 to $115,665 CAD
In Canada, BAs are in most demand in the banking sector. The top-paying industries are energy and utilities and healthcare. BAs working in the energy and utility industry earn around $153,693 CAD, 42% more than the country's average salary. Around 54% of BAs are interested in moving to product owner analysis roles. 70% of BAs in Canada work for the private sector.
AUSTRALIA:
Australia has an average BA salary of $137,681 (in Australian AUD)

Average salary by gender: Women - $137,668 AUD, Men - $139,274 AUD

Average salary by education level: Bachelor's degree - $127,321 to $129,263 AUD, Master's degree - $133,611 to $148,146 AUD

BAs who hold a certification have a higher paygrade of $102,225 to $138,319 AUD
In Australia, BAs working for the information technology field, finance, and government sector have a challenging position due to strong job growth and high demand in these fields. Analysts working in the government sector earn around $160,028, which is 16% more than the country's average salary. Around 47% of BAs are interested in moving to product analysis.
UK:
United Kingdom had an average BA salary of £74,923 GBP (in British Pounds Sterling)

Average salary by gender: Women - £66,991 GBP, Men - £80,182 GBP

Average salary by education level: Bachelor's degree - £68,905 to £70,491 GBP, Master's degree - £64,949 to £97,243 GBP

BAs who hold a certification have a higher basic paygrade of £75,064
In the UK, the top sectors where the BAs work is insurance, banking, and IT industry. Analysts working for the government sector earn around £129,439 GBP, which is 72% more than the country's average salary. Analysts working for the education sector earn about £85,910 GBP.
BAs working in the cybersecurity field in all USA, Canada, UK, and Australia mostly specialize in risk management, compliance knowledge, and disaster recovery. BAs in these countries show top problem-solving, critical thinking, decision-making, and other agile skills. BAs practice agile approaches like Scrum, Scaled Agile, Lean and Kanban, and DevOps.
How business analyst salary has changed over the years
Over the last decade, due to digitization, there has been immense growth and reformation in businesses, which has rendered the need for robust business models and strategic planning. This resulted in an explosion in demand for business analysts, making them an integral part of every business and organization.
According to the 2010 survey statistics, the average salary for business analysts in the United States was $82,493, which is 22% less than today's average salary. The average salary of business analysts globally was around $58,000, which is 21% less than today's salary.
To know about the future of business analysts, we need to understand how business analysts contribute to business performance and economic growth. As humans rely on sophisticated technology to make our lives easier, the need for more complex systems keeps increasing. We are in a technologically driven age where businesses rely on ever-changing industry trends and need BAs to simplify making recurring decisions. For example, without a BA, companies cannot prepare a comprehensive document using which technical teams can implement a feature. Business analyst is a techno-functional job, meaning there are always new business functionalities being learned along with the projects you are working on, making career progression in the field extremely easy compared to other technical jobs like IT or software development. Furthermore, a BA's role requires soft skills and a conscious reciprocation to the business needs in the volatile market, so it has no threat from technological advancement.
Around 90% of business analyst jobs require nothing more than a bachelor's degree. Even though certifications are not a stated factor in many open positions, getting certified increases employment opportunities like fair remuneration and promotion. Around 60% reaped benefits from earning accreditation within the first six months of working and the rest within a year. IIBA surveys show that BAs who hold at least one certification earn 13% higher than non-certified respondents. IIBA core certifications, like CBAP, CCBA & ECBA, cover foundational knowledge and competencies that business analysts should possess. It is based on individual work experience and skillsets and recognizes career development as you gain work experience and take on more extensive project responsibilities.
Further Reads-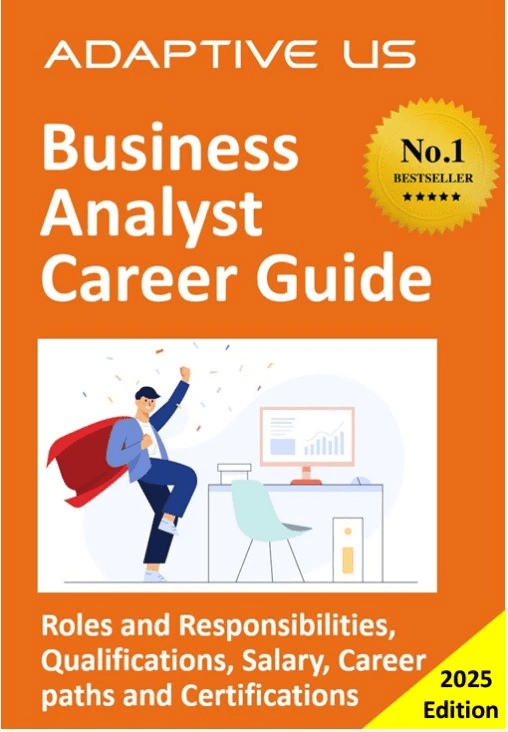 Related Posts
Write Comment