ERP Consultant vs Business Analyst | Free BA Career Guide

Written by: Ann P
Published on: Aug 9, 2022 9:03:31 AM
Become an in-demand BA in 6 months or less!
Talk to our Learning Advisor Today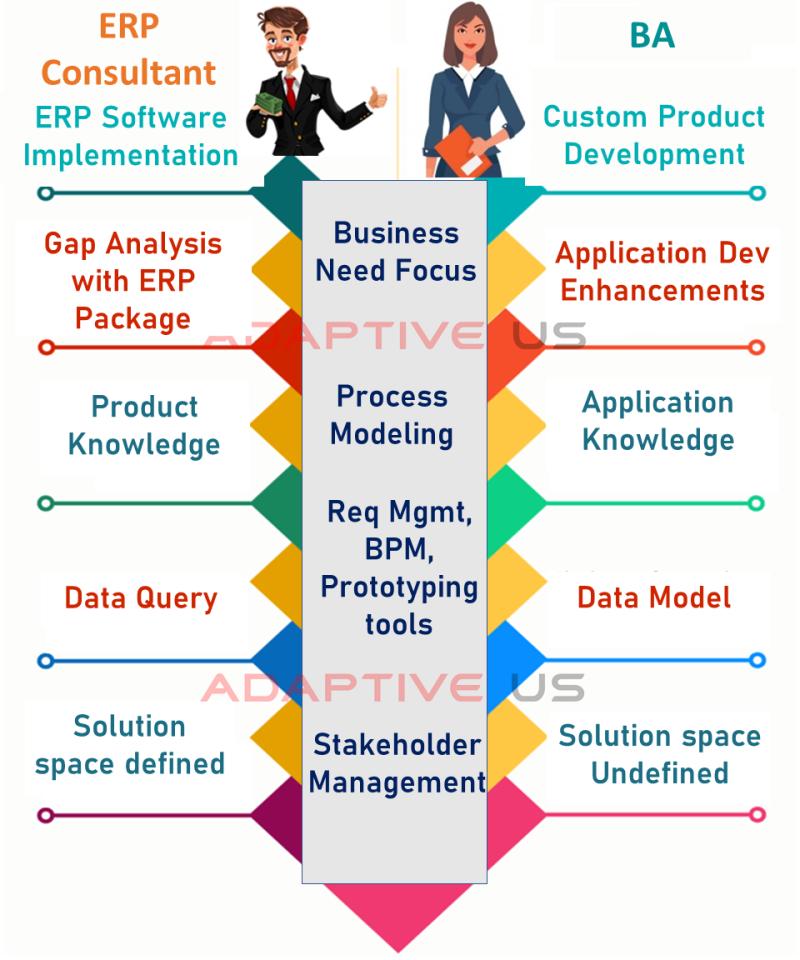 Scroll down for Free BA Career Guide
Business Analysts analyze and evaluate current business processes to come up with changes/improvement opportunities to
Enhance revenue stream

Reduce cost

Improve efficiency

Make the business process smooth or easy to operate

Enhance market share/reputation

Grab new market segments or new geographies to enhance revenue
ERP consultants work on a standard software package/ERP package to solve a business need or automate a set of manual processes.
Both ERP consultants and business analysts work toward improving the company's processes and practices towards higher efficiency and reducing wastage.
Depending on project goals and business domain, the classifications of roles and titles of a Business Analyst can differ. Even though there might be roles similar to that of a BA, they differ due to the core skills and competencies that a BA needs to handle a project. This blog will discuss the similarities and differences between an ERP Consultant and a Business Analyst.
Who is an ERP Consultant?
Enterprise Resource Planning (ERP) refers to software that organizations utilize to manage/automate their day-to-day business processes, including procurement, accounting, risk management, supply chain operations, compliance, and project management.
An ERP consultant not only helps the organization utilize the package's features to the greatest extent possible to benefit the organization in meeting its goals and OKRs, but they also suggest improvements or enhancements to the package to better suit the needs of the org.
Responsibilities of an ERP Consultant
ERP SOFTWARE IMPLEMENTATION:

The ERP consultant is primarily responsible for the software implementation. They ensure the ERP software runs smoothly and develop and oversee solutions for any defaults or shortcomings.

GAP ANALYSIS WITH ERP PACKAGE

:

GAP Analysis is the process of determining the method to get to your desired future state from your current performance or potential. The ERP consultant must consider the features of the software they are planning on using while they come up with the gap analysis document. They are responsible for analyzing the current state, assessing requirements to get to the future state, and ensuring that the software meets business needs.

PRODUCT KNOWLEDGE:

An ERP consultant needs to be proficient in the knowledge of the product they handle. The ERP consultant also needs to understand the organization's needs to have a successful ERP implementation initiative. In addition, they should also understand the software's strengths, limitations, and features in detail.

DATA QUERY:

the ERP Consultant relies on data to make decisions. Hence, they require

query data sources provisioned for them by their technology teams

.

SOLUTION SPACE DEFINED:

the ERP consultant works with a defined solution and a future state in mind. They know the solution scope and work towards meeting the future state. They work with a tech team to meet the needs accordingly.
WHO IS A BUSINESS ANALYST?
Business analysis is a process by which professionals help facilitate organizational changes to satisfy stakeholders' needs. It is the practice of working with stakeholders and business executives, understanding org needs, and recommending solutions in favor of the organization's strategic goals.
RESPONSIBILITIES OF A BUSINESS ANALYST
CUSTOM PRODUCT DEVELOPMENT:

The BA's responsibility is

to define, elicit, understand and document the requirements of the product. The BA begins by understanding the need, evaluates options, analyses the possibilities, and makes a solution decision for implementation.

APPLICATION ENHANCEMENT

: The BA works with the developers to develop or enhance existing applications that fit the business purpose to ensure that the stakeholder's needs are met.

APPLICATION KNOWLEDGE:

The BA must have sufficient knowledge of the application they are currently working on to ensure that it meets all business needs.

DATA MODEL:

The BA must

analyze the data model to ensure the implementation of the business requirements. BAs also facilitate the development of reports based on business needs and data models.

SOLUTION SPACED UNDEFINED

: the job of the BA is to define the proposed solution. They mainly help by working with stakeholders to define their business needs and extract their requirements from what must be delivered. The solution could be custom developed, procured, or a mix of both approaches.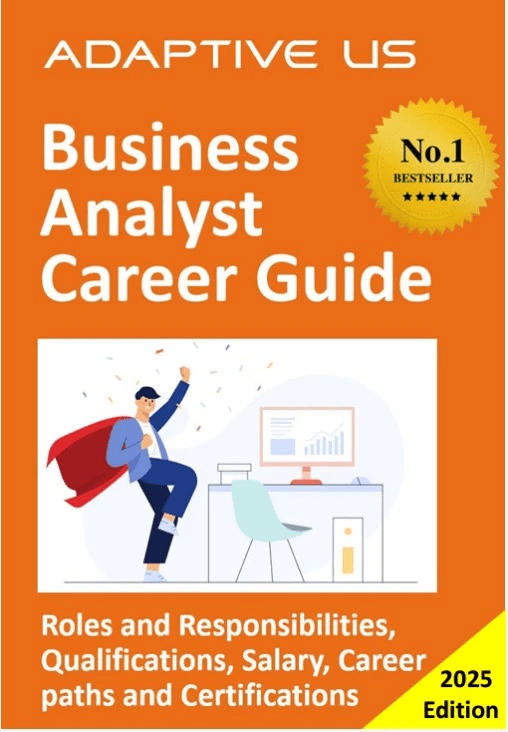 SIMILARITIES BETWEEN AN ERP CONSULTANT AND A BUSINESS ANALYST
BUSINESS NEED FOCUS:

ERP consultants and BAs both work with a business needs focus.
PROCESS MODELING:

Both the ERP consultant and the BA use process modeling to elicit requirements. They both make use of graphical representations of business processes.
REQ. MGMT, BPM, and PROTOTYPING TOOLS

:

Requirements Management Tools bring clarity, remove ambiguity and ensure implementations and deliverables are clear, realistic, and efficient.

They also use prototyping tools to demonstrate the flow of information to the tech/ implementation team of their software or business processes.

STAKEHOLDER MANAGEMENT:

Stakeholder management is a key task for both ERP consultants and BAs. They both work to identify stakeholders, analyze their needs and expectations, and plan and implement various tasks to engage them.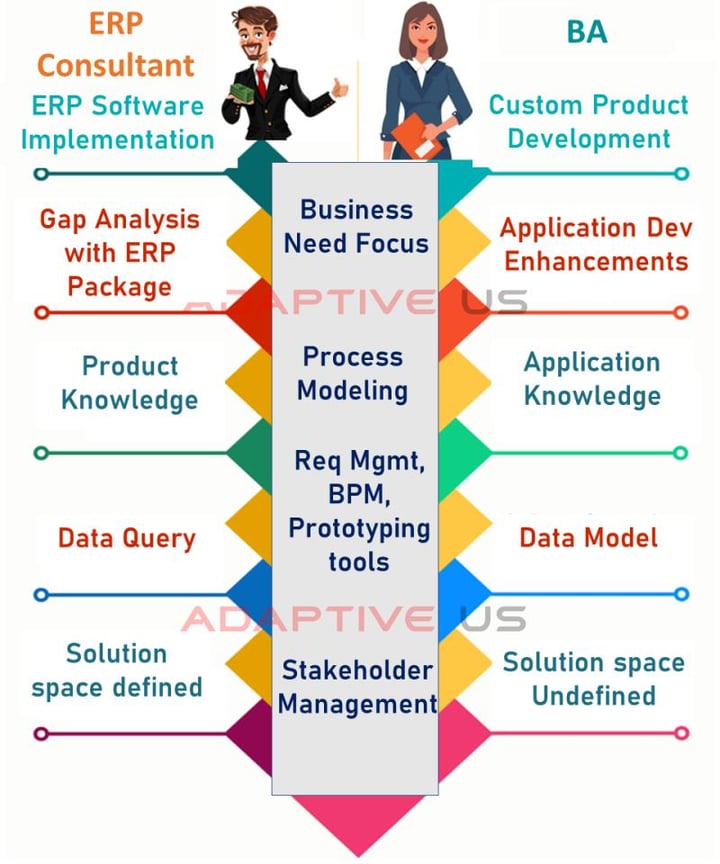 Related Posts
Write Comment