Leveraging BABoK as an Enterprise Excellence Framework
by LN Mishra, CBAP, CBDA, AAC & CCA on Jun 27, 2019 12:00:00 AM
Most of us recognize BABoK as a business analysis framework. Thousands of business analysts have benefited and are benefiting from BABoK while performing business analysis tasks. However, BABoK is not Limited only to business analysis work and it can actually be effectively used as an enterprise Excellence Framework. You may be wondering how? I will be discussing how we used BABoK as an enterprise excellence framework to improve Adaptive's performance.
Before we jump in, let's understand what is an Enterprise Excellence Framework.
An enterprise Excellence Framework helps an enterprise to continually improve its performance and helps in achieving enterprise goal and objectives.
Key elements of enterprise excellence framework are:
Establish an enterprise goal

Define strategies for achieving the enterprise goal

Defining initiatives for achieving the strategic objectives

Managing the strategic initiatives
Now, how can we leverage BABoK to achieve enterprise excellence? Here are the true facts from Adaptive.
1. Establish an enterprise goal
The enterprise analysis knowledge area of BABoK discusses "Define future State" which can be effectively used to establish enterprise goal. BABoK also advises understanding the current state before we define our future state.
At Adaptive, we defined our goal to be among the Top 3 business analysis training providers in the world by 2020.
2. Define strategies for achieving the enterprise goal
When an enterprise establishes its strategy, it needs to consider both external and internal factors. When we look at the BABoK task, Analyze Current State, it describes the following key external influences on an enterprise.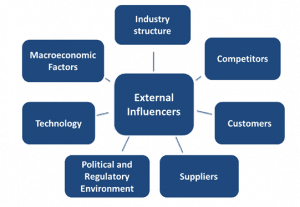 Let's take a couple of external influences and how we applied it to our enterprise, Adaptive US.
When we analyze our customer behavior, we figured out that our customers are moving to mobile devices. They want to access our content on the go and on multiple devices.
Similarly, when we reviewed technology, we realized technology is rapidly moving into the digitalization world. We realized as an organization that mobility, cloud, social media, artificial intelligence can serve as strategic imperatives for us to succeed in the new digital world.
3. Defining initiatives for achieving the strategic objectives
The BABoK task "Define Future State" asks us to define the scope of change initiatives. We undertook the following change initiatives:
Make content available on mobile devices

Improve web and social media performance

Leverage artificial intelligence to create content in multiple formats
We modified our content to be mobile friendly and to be used when people are on the road. Our audiobooks have been a great hit with our customers.
When we discuss developing strategy, BABoK suggests that a strategy should be based on enterprise competencies. This may be wrongly interpreted. BABoK should ensure that we are not limiting are restricting competencies by an enterprise. Enterprises can and should develop new competencies. We developed significant competence in social media marketing, in content conversion which we did not have just about 3 years back. These new competencies have enabled as to be present in multiple geographies and attract customers from more than 50 different countries.
4. Managing the strategic initiatives
The next aspect would be to manage the strategic initiatives and for that, we actually have an entire knowledge area in BABoK devoted to it- Business analysis planning and monitoring. We applied the concepts in Planning and monitoring to ensure that we plan and monitor our initiatives.
For example, as part of one of the initiatives to improve our web presence, that we undertook last year was to improve our domain authority from an existing level of 16 to 32 in 2018. We achieved a figure of 31 by the end of 31st December 2018.
We developed and procured many new software solutions. We used tasks from elicitation knowledge area, requirements life cycle management knowledge area, requirements analysis knowledge area for procuring and developing the solutions.
Conclusion:
We strongly believe that BABoK can indeed be used as an enterprise excellence framework. Here is a summary of BABoK knowledge areas and how we leveraged them in our enterprise excellence journey.
Suggested Reading-
BABoK Word Cloud - An essential guide to understand IIBA Exam Questions
Comparing Three Decision-Making Techniques in BABoK
No Comments Yet
Let us know what you think