Checklist of Sources of Requirements - Adaptive US
by LN Mishra, CBAP, CBDA, AAC & CCA on Jul 18, 2019 12:00:00 AM
Let me narrate a real project incident that happened with my project.
This project was for a very prestigious retail chain client in Seattle. Seattle is a very lovely city. The client was a wonderful client to work with. As we come towards the end of the project, we decided to showcase the new financial reports created from the newly implemented accounting system.
We printed these reports in A2 format and we put them in a large discussion hall for all stakeholders to come and have a look. The stakeholders from stores, restaurant, and many other departments had a look at the reports and appreciated the good work done by us.
The client's legal team had a look, almost a week later, and they came back with a request to re-develop all financial reports (40+ reports). The legal team told us that most of the financial reports developed have to be rewritten to comply with US legal requirements.
We had just over two months to go live. We had no choice and we had to put 20 extra developers which cost a lot of money to our company.
Now, let's do a 5-why analysis for this situation.
Problem: Need to develop 40 new reports.
Why 1: To conform to Govt. regulations.

Why 2: These requirements were not captured.

Why 3: Business analysis team did not include Legal team in stakeholder list.

Why 4: It was a very tiny team.
We forgot to include a tiny but powerful stakeholder group. Since requirements are largely based on stakeholder expectations, it is extremely important to include all stakeholders. One fool-pro way is to develop a comprehensive checklist of sources of requirement.
Here is a proposed list.
Government

Customer (Internal or External)

Sponsor

Domain SMEs

End users

Implementation SMEs

Testers

Senior management

Workers' union

Suppliers

Competition

Standards organizations (ISO, CMM, etc.)
To identify stakeholders, Business analysts should consider the following sources and techniques: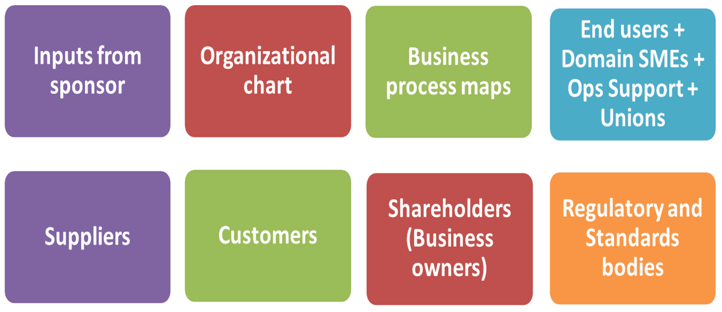 We will be happy to receive inputs from other business analysis practitioners to make the list more comprehensive.
Suggested Readings
BA's, are you ensuring your solution is acceptable to stakeholders?
How to manage negative stakeholders? (Sorry you can't shoot them)
How to handle aggressive stakeholders
No Comments Yet
Let us know what you think